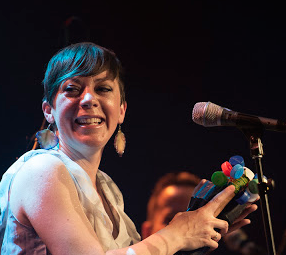 Jesús Quintero 
(google translation from Spanish) It is inevitable to rely on metaphors, because what Gretchen Parlato offers is the opportunity to see how with her voice she draws a point that - almost evanescent, of intense faint appearance - integrates with others to create, rather than a line, a fragile thread that sometimes seems to link and guide the three musicians that accompany her or at another time seems to be the only link between the ground and a yellow comet that obeys the breath blowing in a clear sky. 
The American singer arrives for the first time in Mexico flanked by Marcel Camargo (guitar), Artyom Manukyan (cello) and Léo Costa (drums and percussions). Flor is the name of the group and the project they are shaping with a repertoire that makes a stop in Brazilian music, fortunately with arrangements outside the cliché - no postcards with beach, bikinis, barefoot children after a ball at sunset and dismal languor— as well as her own subjects ("Magnus") and others ("I can't help it", success in the voice of Michael Jackson). 
Daughter of bassist Dave Parlato, Gretchen is an unusual artist in these times, where pyrotechnics and excessive use of technology are resources that every genre of music uses to snatch the volatile attention of the listener. Her voice - recorded in four albums and more than 80 phonographic collaborations - impacts by the subtle volume, the precise syllabic handling and a warm and fine coloration that brings it closer to instruments such as the guitar, the cello or a trumpet with a mute. Hers, more than scat is a murmur that encourages the blue of the flame. 
Flower: four letters and four musicians in a Lunario butt. And although the eyes are attentive to the singer born in 1976, Parlato knows and recognizes that the warp of this night is a collective work and that is why at various times she presents with respect and admiration to her accomplices, in addition to the fact that they take flight with alone that they are not of those that are heard anywhere because their trajectories are plural and are not without challenges: Camargo has collaborated with the singer Michael Bublé and the keyboardist and composer Sérgio Mendez; Costa has worked with Janelle Monae, k.d. lang and Los Lobos, and the Armenian Manukyan with Draco Rosa, Snoop Dog and Daryl McDaniels of Run-D.M.C .; that is to say, the raw heterodoxy on the stage and for that effective integration Flor already displays its own color in which there is a lullaby with baroque glimpses ("Rosa"), a suite for Bach's cello (and voice) and even a touching and complex reconstruction of one of David Bowie's last songs ("No plan"). 
The smiles and empathic gestures of the guitarist and the cellist speak of the degree of interaction achieved with Parlato, who uses rattles and her palms in a dozen compositions with different lights that offer her delicacy to those who can listen carefully. On other occasions her timbre shines due to the contrast with the drummer, who could burst eardrums, but prefers to balance her strength with that of the singer for the benefit of a repertoire that rocks, lightly, in the ears and in the memory. 
Flor marks the return of Gretchen Parlato to the stage in a formal way, since after getting married to drummer Mark Guiliana, they conceived a son who, small still, has refreshed her inspiration as a composer ("Wonderful") and reminded him of the miracle that the ephemeral exerts in the heart when it is offered with humility and overflowing perfection. ♪