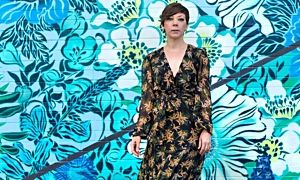 Angela Perez, BeMelbourne 
Hailed as one of the most important jazz singers since Cassandra Wilson, Gretchen Parlato is the kind of artist that comes along once in a generation. 
"It could be said that the measure of an artist can be taken by the individuality of their work - and if this were the case, Gretchen Parlato and her band would be in a league of their own. Expert musicians, she does play or use her voice like an instrument and her band are equally at ease and talented. 
The mix of music is also a wonderful hybrid of sounds, sometimes jazz, sometimes classical, other times Brazillian jazz or medieval sounds but also unique and fascinating, taking you on a tale all of their own. Incorporating a little David Bowie, a bit of samba and sounds meshing several genres, Gretchen Parlato is as good as they hail her - worth every moment if you get the chance to see her. In addition, the opening act, the talented Sam Anning Sextet, played before hand, and also proved consummate professionals. Offering a more traditional jazz sound which was in direct contrast to Gretchen Parlato, who was the indefinable opposite of this."