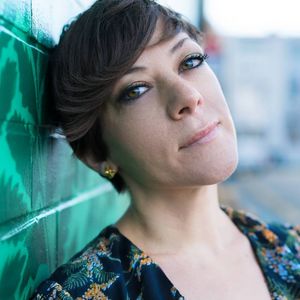 Nick Catalano, All That Jazz
"The New Year was dramatically ushered in at The Jazz Standard on January 2nd when Gretchen Parlato and her band wowed an SRO audience with some of the most prescient music of the season. No vocalist of recent vintage has garnered more acclaim than the brilliant chanteuse, transplanted from L.A. to Gotham awhile back. Grammy nominations, critical commendation from writers and musicians ("A singer with a deep, almost magical connection to the music." —Herbie Hancock, "There's no one out there like Gretchen" —Wayne Shorter) keep rolling in and deservedly so. 
Appearing with her recording/ touring group (Marcel Camargo—guitar/ musical director, Artyom Manukyan: cellist, Leo Costa: percussion), Parlato unveiled her Brazilian/jazz/classical repertoire with revolutionary insight and unmitigated command. In "Magnus" she revealed her melodic geomancy, and in "Wonderful" she uncovered playful instrumental musicality.... The best was yet to come. In "Bach Minuet" she counterpointed Camargo's guitar lines and Manukyan's bowings with innovative timbre and a pitch control equal to the vibrational accuracy in a physics lab -the latter spectacle scatted in the unending trademark Bach allegretto passages. 
Superb jazz vocalists are rare. But rarer still are artists that transform the music itself. The great transformers—Holiday, Fitzgerald, Vaughan, Carter and others left the stage long ago. When you see and hear Gretchen Parlato you will recall the magic of those jazz mistresses of yore and instantly realize, as have jazz cognoscenti everywhere, that that level of magic is with us once again."