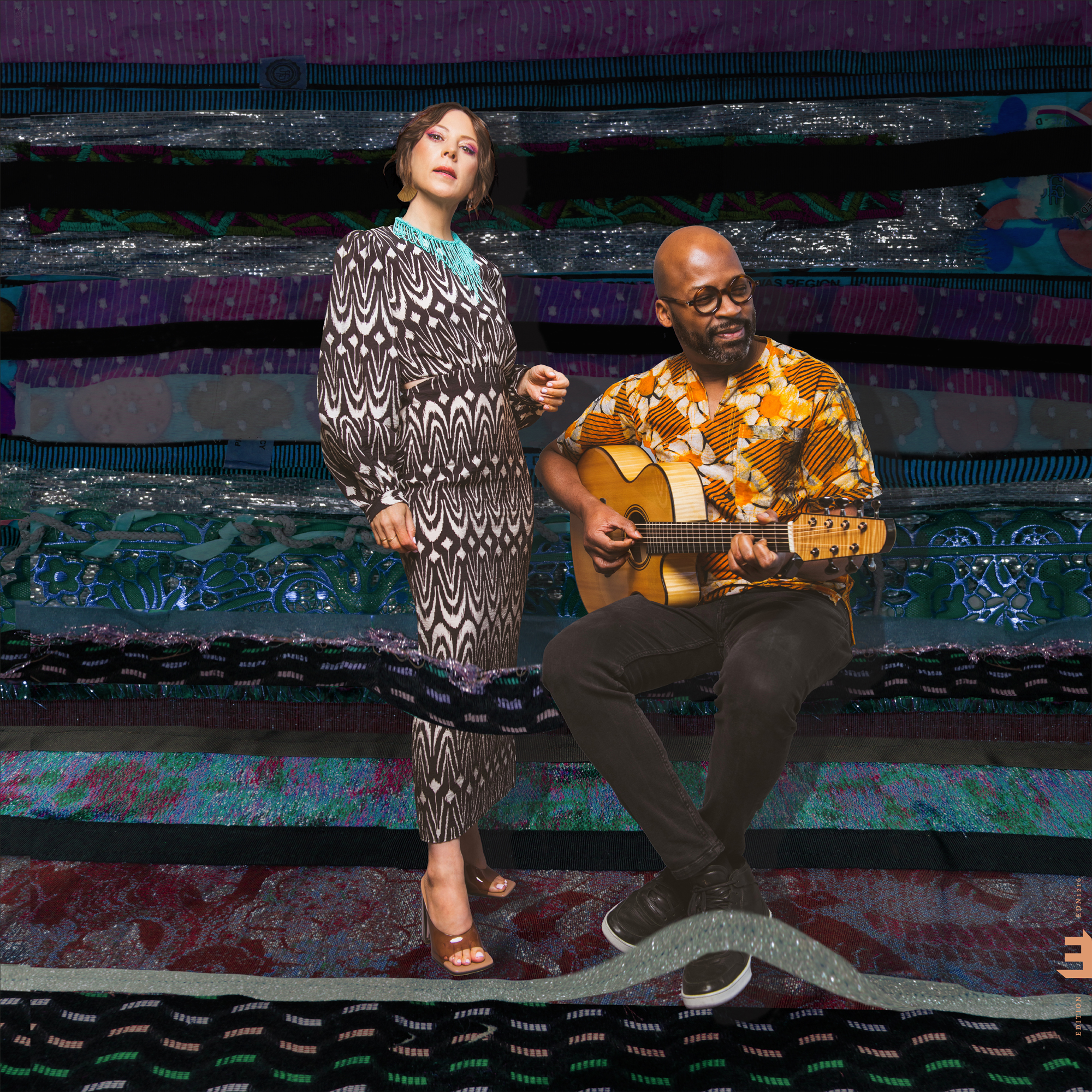 by Jim Hynes, Making a Scene, May 20, 2023
Only synergistic, like-minded musicians could craft an album so rich in rhythms, textures and harmonies through the use of so few instruments.
Although the duo of vocalist-arranger Gretchen Parlato and guitarist-vocalist Lionel Loueke have performed together relatively often and have contributed to each other's projects, Lean In is their inaugural recording. Written during the pandemic on two different continents, the project evolved between Luxembourg and Los Angeles, where the two respectively reside. Within four months of the process, Parlato and Loueke were in a Los Angeles studio, adding two versatile musicians, bassist Burniss Travis (Robert Glasper) and drummer Mark Guiliana (leader on his Edition albums The Sound of Listening-2022 and Mischief-2023). Performed in English, Portuguese, and Fon (the indigenous language of Benin), the songs form a virtual travelogue through various cultures and soundscapes from pop and R&B classics to Afrobeat and Brazilian tunes that both defy and blur genres. It could just as easily be a 'world' album as a 'jazz' album.
Beginning with the syncopated melody of "Akwê," Loueke and Parlato sing in unison before Loueke injects familiar traditional West African music guitar riffs along with his over-the-top mouth percussion. The Fon lyrics essentially take up that age old theme that money can't buy happiness or, in Beatles terminology, love either. Guiliana joins for Parlato'srework of the 1984 hit "I Miss You" from the all-women '80s funk band Klymaxx.  Parlato injects the requisite universal yearning for families and friends felt during the pandemic and Loueke, who was unfamiliar with the tune, provides a subtler, gentler arrangements than the tune's original as a power ballad. Travis' bass is the first instrument heard on "If I Knew" as the guitar-bass-drum trio builds the tune into an Afrobeat dance track, with Guiliana's son Marley and Parlato's daughter, Lisa, contributing on the backgrounds over a hot bed of percussion and multiple voices.
Interspersed in the program are three interludes, "Okagbé," "Mi Wa Sé," and "Dou Wé," the first of which is a superb example of how Parlato and Loueke just through the use of voice, percussion, and guitar can create a magical, rather ethereal sound. The latter two are formed on instrumental improvisations by Loueke, Travis, and Guiliana, over which Parlato and Loueke add melodies and lyrics, respectively. Marley Guiliana takes the lead vocal on "Mi Wa Sé" with harmonies from the two principals while Loueke's guitar bears that distinctive West African sound we associated with Mali icon Ali Farka Touré or the band Tinariwen. "Dou Wé" is the most rhythmic track on the album, a chance to shake loose and dance.
From Africa we head to Brazil for "Astronauta," written by composers Carlos Pingarilho and Marcos Vasconcellos. It's one the earliest Brazilian pieces Parlato learned, and her breathy, sultry vocal would be enough, yet Loueke reaches into the upper realms for his atmospheric vocal solo that puts a unique stamp on the tune as do his drawn-out, steel-like guitar notes.  Parlato's "Muse" is also a tender number as she sings lead, accompanied by subtle guitar (again atmospheric) as she adds percussion along with Loueke and Guiliana.
The duo configuration returns for Loueke's "Nonvignon," named for the African nickname he bears.  Joyous and breezy, the tune symbolizes the connection between the two who have now known each other for over two decades. The opening lyric reads, "Let's all be brothers and sisters/Long life and good health to all." His "Painful Joy" is also a duo rendering with Parlato's wordless vocals floating above his intricate guitar picking. The haunting quality owes to harmony moving in minor thirds. The mournfulness shifts to hand claps, representing glimmers of hope emerging. The three-way composed title track unfolds literally as it was written. Built around Guiliana's progressive and hypnotic percussion loop, Parlato then enters with her melody and lyrics over which Loueke adds harmony and his vocal. Perhaps the most familiar tune, the closer, Dave Grohl's "Walking After You," is from the 1997 The Foo Fighters release, The Colour and the Shape.  Originally written as a tribute to two decades plus drummer Taylor Hawkins who passed away in March of 2022, the tune took on more somber elegiac tones when they recorded it in the following month of April.
Only synergistic, like-minded musicians could craft an album so rich in rhythms, textures and harmonies through the use of so few instruments. Each echoed these sentiments.  Parlato – "He's someone who finishes your musical phrases, so to speak."  Loueke – "We're challenging each other at the same time. I'm just going where she is and vice versa." Blending their voices, cultures, and musical talents makes for a truly sublime listen.