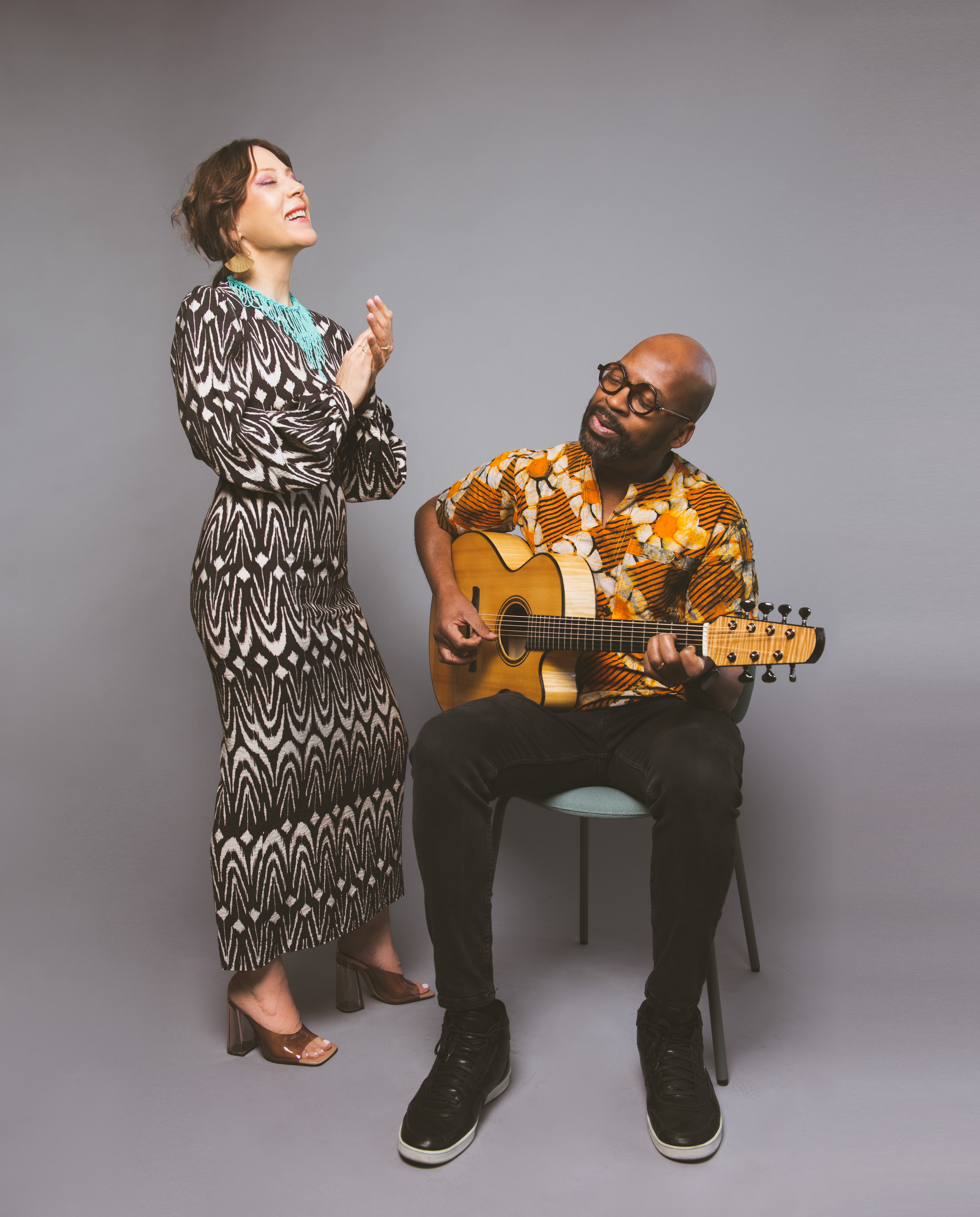 By Martin Johnson, Wall Street Journal, May 17, 2023
The less-is-more approach is as old as music itself, but very few performers on the contemporary jazz scene are as accomplished at it as Ms. Parlato and Mr. Loueke.
Vocalist and composer Gretchen Parlato has one of the most unique styles in jazz. Rather than routinely singing over her backing band, she peppers her gentle crooning with percussive vocalese and handclaps, creating an elegant, stuttering and appealing approach; it's as if she's burrowing into the music, taking listeners with her. Ms. Parlato has been on the scene for more than 20 years and has attracted many collaborators, but one of her most sympathetic allies is the Beninese guitarist and vocalist Lionel Loueke, whose interests often dwell on rhythmic subtleties. They first met in 2001 at the Thelonious Monk Institute at the University of Southern California and discovered their shared sensibility. In New York in the 2000s and 2010s each often guested on the other's gigs and albums. During the Covid-19 lockdowns, the pair began corresponding—Ms. Parlato was in Los Angeles, where she now lives, and Mr. Loueke resides in Luxembourg—sending musical ideas and sound files back and forth. As the restrictions eased, they continued to develop their concepts, and the result is "Lean In" (Edition, out May 19), an impressive meeting of like-minded musicians.
The recording has a sunny-day vibe, and it features duets as well as several tracks where the pair are backed by drummer Mark Guiliana and bassist Burniss Travis. The numbers are sung in English, Portuguese and Fon (an indigenous language of Benin), and the album opens with Mr. Loueke's "Akwê," which begins with wordlessvocals from both Mr. Loueke and Ms. Parlato underpinned by handclaps and mouth percussion. Then Mr. Loueke's guitar lines transition into the two singing in Fon about passion giving life more meaning than money.
Some of Ms. Parlato's most compelling works have been her covers. She's turned such familiar songs as Anita Baker's "Sweet Love," Simply Red's "Holding Back the Years" and Herbie Hancock's "Butterfly" into softer versions that increase rather than reduce their power. She does it again on "I Miss You," her take on the R&B power ballad by Lynn Malsby that was a mid-'80s hit for the group Klymaxx. Ms. Parlato's potent arrangement strips the song to just guitar, drums, mouth percussion and her tender croon, highlighting the longing and ache in the lyrics.
"If I Knew" is adapted from "The Stars or Space Between," a 2019 Jazz Gallery commission, and it features the most intense sounds on the recording. Messrs. Guiliana, Loueke and Travis create a densely layered West African rhythm, and Ms. Parlato sings over it—expressing a perhaps universal sentiment: "If I knew then what I know now." 
Bossa nova is one of the shared interests of this album's co-leaders, and they delve into the genre on "Astronauta," written by Carlos Pingarilho and Marcos Vasconcellos in the 1960s. The track features especially affecting playing by Mr. Loueke. His keening guitar licks both back Ms. Parlato's soft vocals and recall the big-sky sound of some Americana. Mr. Loueke is the longtime guitarist in a band led by piano great Herbie Hancock, and he combines versatility with exceptional range. He demonstrates that often on this recording, but less in his solos than in his ensemble playing.
The title track breaks from the mellow complexity of the program. It begins with insistent looping rhythms from Mr. Guiliana, followed by Ms. Parlato singing about commitment with Mr. Loueke adding harmonies and stinging chords. Then the track moves toward a more relaxed mood as the three musicians blend their sounds, closing with a fade that finishes with the percussion loop.
"Painful Joy," which features Ms. Parlato's wordless vocals and Mr. Loueke's guitar and percussion, is the song most inspired by the lockdowns. In the press release for the album, the musicians say that they aimed to capture both the anxieties of that moment and the sense of dread and mourning.
The recording closes with Dave Grohl's "Walking After You," which appeared on the Foo Fighter's 1997 recording, "The Colour and the Shape." The duo's mostly faithful rendition wasn't intended as a dedication to Foo Fighters drummer Taylor Hawkins, who died in March 2022 shortly after this version was made, but in their subsequent performances of the tune it has taken on the weight of tribute.
The less-is-more approach is as old as music itself, but very few performers on the contemporary jazz scene are as accomplished at it as Ms. Parlato and Mr. Loueke. Their sound is so cohesive and complete that they make piano trios seem extravagant by comparison.
Mr. Johnson writes about jazz for the Journal.
Copyright ©2023 Dow Jones & Company, Inc. All Rights Reserved. 87990cbe856818d5eddac44c7b1cdeb8
Appeared in the May 18, 2023, print edition as 'A Dexterous Jazz Duo'.