by Craig Byrd, Cultural Attaché, July 22, 2022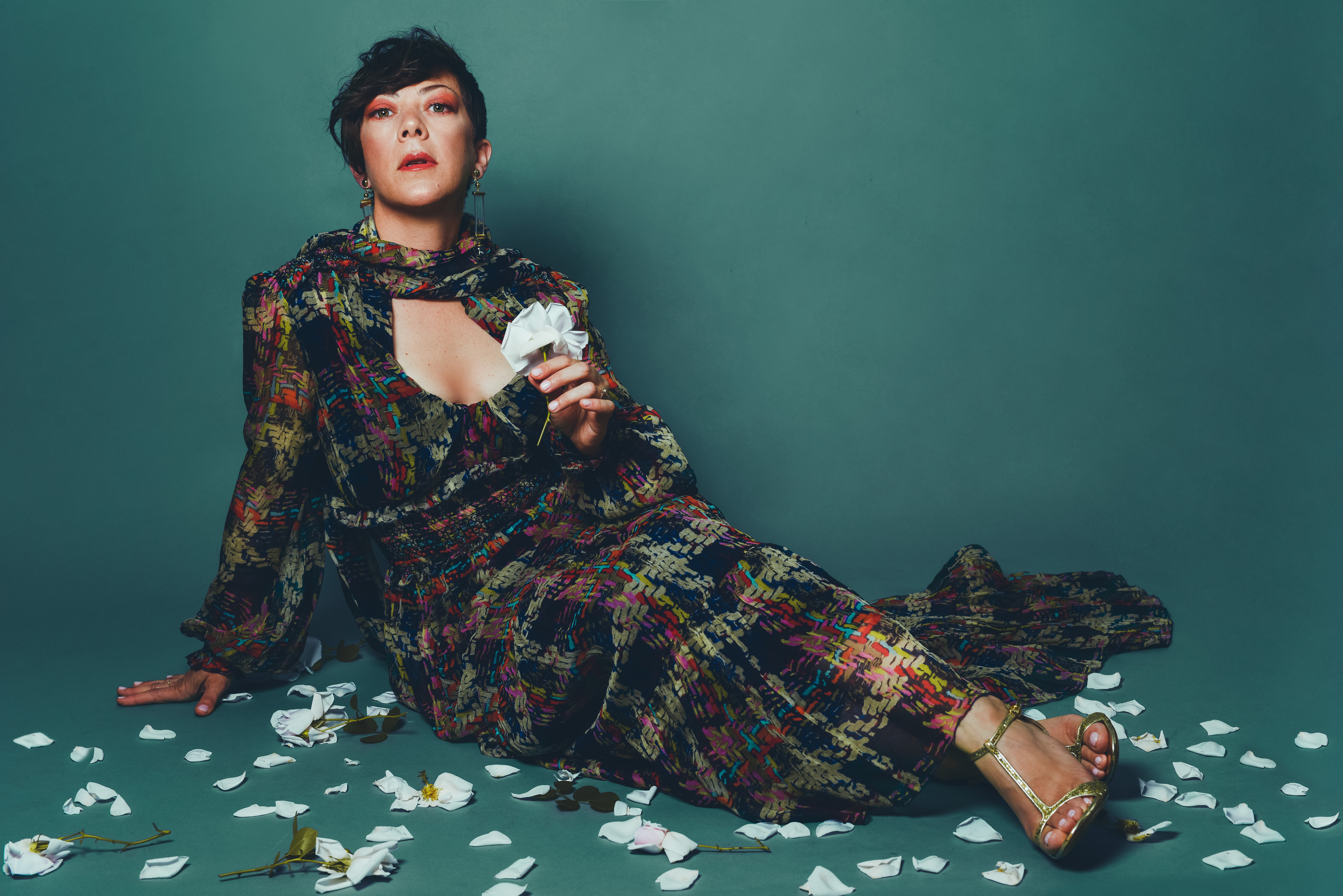 In the first postings about Wednesday's tribute to Peggy Lee and Frank Sinatra at the Hollywood Bowl there was a list of artists followed by "and more." Singer Gretchen Parlato posted that image on her own social media with an arrow that said, "that's me." (Subsequent postings have included her name.)
Her sense of humor about it was something we discussed last week in a Zoom call. Parlato said, "If you see the list of the other artists I'm very certain that I am the most least-known artist of all of them. And I'm happy to be included. It's just that feeling of being able to have that moment to honor this music and then be starstruck and to just look over. I don't know how close you can get to the other artists."
The other artists are Billie Eilish, Debbie Harry, Bettye LaVette, Seth MacFarlane, Brian Stokes Mitchell and Dianne Reeves. They will all perform with The Count Basie Orchestra with musical director Christian McBride and pianist John Beasley.
Though Parlato is not a household name the way other artists on this program are, she should be. She's a two-time Grammy Award nominee for her albums Live in NYC (2013) and last year's Flor. She has an understated approach to singing that draws a listener in almost immediately. She can easily go from singing from the Great American Songbook to singing a song by David Bowie (No Plan which is on Flor).
Her grandmother was the person who most influenced Parlato.
"She played a big role in playing these amazing jazz vocalists for me. Before I even knew what jazz was. It was just this sound of Ella and and Nancy and Frank and Peggy Lee."
When asked if she's concerned that our present-day culture is entirely too focused on the present and not the past, particularly as it relates to recording artists, she finds a reason to believe.
"I agree with you that often it takes a little more effort to seek out the art of any genre that isn't alive anymore," she offers. "To show how important [Sinatra and Lee] were in the lineage, look at the singers that are chosen to be a part of this show. Billie Eilish is one of them. She has stated her adoration for Peggy Lee and Frank Sinatra. So that's a perfect example of someone who's very young who can pay tribute and admire singers that she grew up with that have helped inform what she does. But it's unique."
For this concert Parlato will be singing two songs from the Sinatra and Antônio Carlos Jobim catalog. While she is definitely a fan of Sinatra's, I believe she has a lot in common with Peggy Lee's signing style. Lee said of her own vocal talents that what she did was "singing softly with feeling." The comparison is not lost on Parlato.
"It's interesting because I've heard different quotes from other artists. Not until you just mentioned the quote from her did I put it all together. That's the way that I have been brought up being a vocalist. There's something so powerful about this understatement and intimacy and kind of allowing people to feel all the different facets. It doesn't have to be something obvious, it can be something that's a little bit intriguing."
It's also the moments she chooses not to sing that are equally important to her.
"You're totally right. That is equal, if not maybe more important; the space and the silence in-between the sound. I talk a lot about that when I teach. It's like the yin and yang. It's like these opposites that complement each other that make the other one even stronger. It's an exciting place to be when you allow that space to sit and you get comfortable with it. And it's a great metaphor for life to write, for meditating or just leaning in and accepting a situation and allowing it to be and feeling. Allowing whatever will come around to enhance that place that you're in."
Parlato has learned a lot from teachers like Ruth Price, Tierney Sutton and the late Barbara Morrison who called what Parlato does with her voice "an offering. It's a gift, like, here you go." As for the lessons learned from Sinatra and Lee, she is very quick to respond with one word.
"I think phrasing is everything. Singers like that really taught me to pay attention to not only the emotional story of the song, but what are we singing about. Barbara had us write out what are the lyrics about of the song that you're singing. What's a way that you can introduce this song and find your connection to it. That's something that I can find much easier to do now in my forties than when I was a teenager. There was a disconnect, too. It was mostly about this more intellectual and technical sense of phrasing and rhythm. I think paying attention to the rhythm can be informed by the emotional story of the song. So what are you trying to say? How do we phrase based on the story?"
Last spring Parlato completed a recording with guitarist and singer Lionel Loueke. Their duo project will be released next year followed by a series of performances around the world. For now it's the tribute to Sinatra and Lee followed by a tour in Europe in October and November.
But what if Sinatra was able to hear her sing? To hear her sing from some of the legend's most celebrated albums? What would she like him to say?
"Oh, wow. That's a cool question. I'm imagining him sitting in the box seat smoking at the show. I think if he said 'Good job, kid' I'd be good with that. If he said, 'Let's have a drink. Cheers!" that'd be good.
"In all seriousness, if he was able to find a glimpse, a sparkle that he had an influence and a connection to. I think that would be an enormous compliment. Somebody of that level just feeling that I am connected to the music. I would hope that he would appreciate artists finding their own voice, singing a song and telling their own story. So I would hope that he would hear me singing his exact arrangements and that he would hear that there's a tradition there. But that there's something fresh and a new story to tell. That I made it my own."