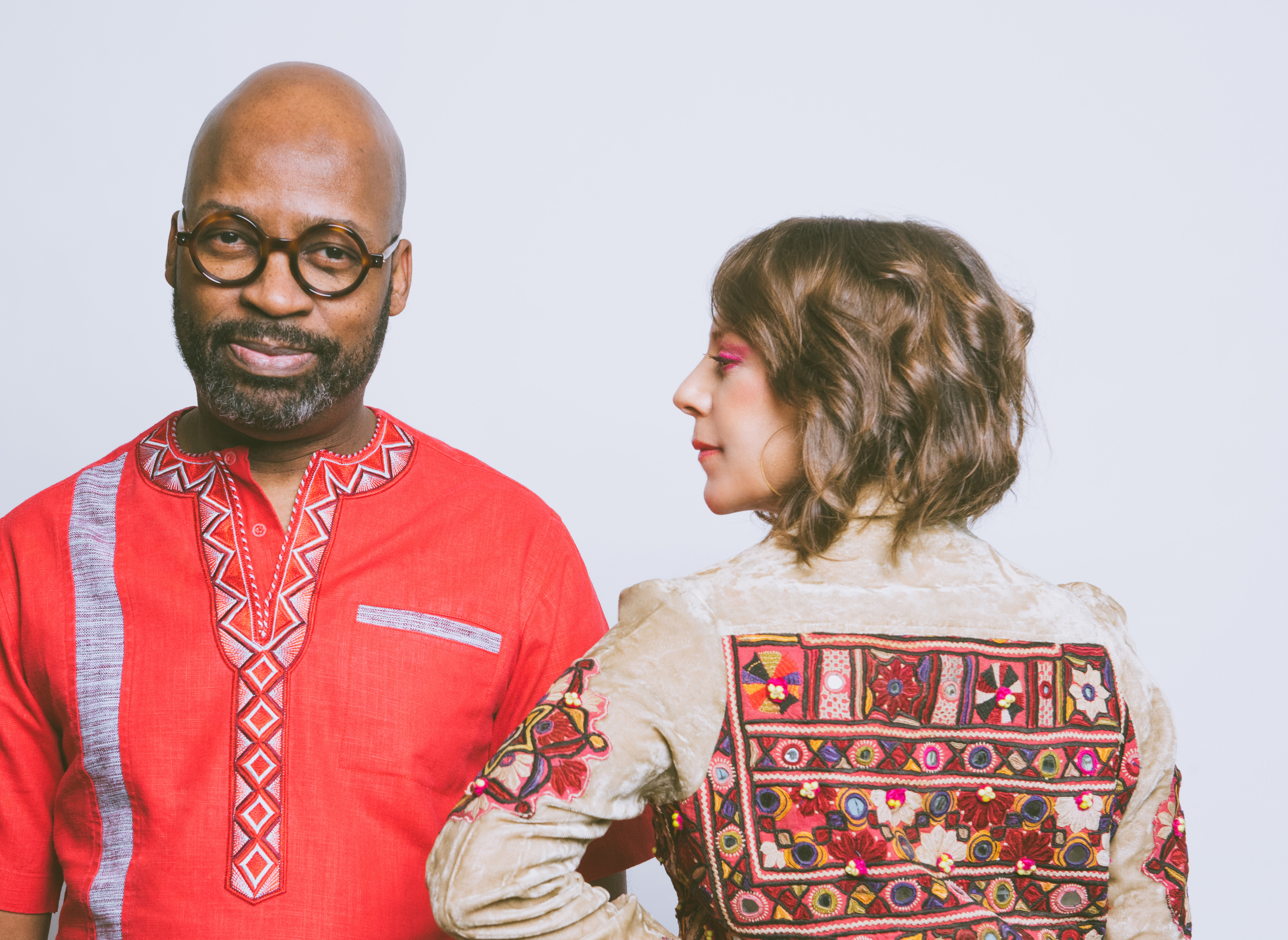 by Mitsutaka Nagira, Note
»read japanese article
Gretchen is one of the most important figures behind the rise of jazz in the 2010s. The accuracy of her rhythmic approach and the richness of her expression were indispensable to the jazz scene, which needed a "voice". That's why, listening to Gretchen's participation work, she was able to meet an important contemporary jazz artist.
In the early 2000s, when Gretchen was trying to establish her own music, one of her greatest influences was Benin-born guitarist and vocalist Lionel Lueke. Alumni of Thelonious Monk Institute, the two hit it off and influenced each other. Lionel's music was a great inspiration for Gretchen, as she explored rhythms from around the world, especially in West Africa, and expressed them in her own unique way. Since then, Gretchen has referred to Lionel in various interviews as a major influence on her own music.
Gretchen says, "Lionel really boosts my sense of rhythm and timekeeping, so it's always exciting to sing with him."
It was the same with Lionel. For Lionel, Gretchen was also a great inspiration.
Lionel: Gretchen and I were at Thelonious Monk Institute together. Playing with Gretchen taught me how my playing should respond to my voice. I think it's been developed and grown in every way. I was doing a duo with her at the time and her songs have no boundaries. It's a direct 'I want you to do this.' We can always explore each other and make music as if we were on an adventure in a way. And I learned a lot from her about her singing. The control of the voice and the combination of the voice and the playing. Her voice blends well with the guitar. And the pitch is terrifyingly accurate, and the rhythm is accurate and powerful. And I'm not afraid to take risks."
—From Jazz The New Chapter 4
Lionel's original and high-level combination of singing and guitar not only fascinated Herbie Hancock and became an indispensable presence in his music, but he has always been a key figure and singularity in the contemporary jazz guitar scene. stimulating.
The two have co-starred over and over again, and have continued to make guest appearances in each other's works. Lionel appeared on Gretchen's 2005 debut Gretchen Parlato and 2009 second album In A Dream, and Gretchen sang on Lionel's 2006 Virgin Forest and 2012 Heritage. there is The two of them recorded together for the first time in 11 years, and the first joint release was "Lean In".
By the way, these two are overwhelming all the time, but it is interesting to see how they have evolved by listening to their co-starring sound sources in chronological order. In 2005's "Gretchen Parlato" and 2006's "Virgin Forest", the characters of each other were strongly expressed, but they were fumbling around, but in 2009's "In A Dream" and 2012's "Heritage" The degree of perfection is increasing. From the early days of mere addition, the arrangements were refined and the art of creating harmonies clearly improved. In "Lean in", which was the first collaboration between the two in a long time, you can hear the leeway, and you can feel the depth of the bosom, reaching even higher heights. 'Lean In' is not only the culmination of a collaboration between two of the most important figures in contemporary jazz, but also a culmination of Gretchen and Lionel's great journey in the 2010s. I think it is too.
Here we speak to Gretchen about Lean In. She talks about this wonderful album in her kind words.
   Gretchen Pallato & Lionel Loueke | Lean In
   www.coreport.jp
   Interview and editing: Mitsutaka Yanagira | Interpreter: Kazumi Someya
   Cooperation: COREPORT | Photo: Lauren Desberg
table of contents
◎Long exchange between Gretchen and Lionel
◎ Concept of "Lean In"
◎ Composition and arrangement based on the existence of Lionel
◎ "Nonvignon" re-recorded for the first time in 17 years
◎ Participation in Becca Stevens' composition workshop
◎Klymaxx and Foo Fighters covers
◎Long exchange between Gretchen and Lionel
――You have had a close relationship with Lionel Lueke for a long time.
I've known him for 20 years. We've known each other since we were students, and have been involved in each other's projects. Both of us have always wanted to do a duo one day, but it takes time and preparations to actually do it. Twenty years passed without it being realized. But now, I think the time has come to finally make it happen.
――The two of you influenced each other, and I remember when I interviewed each of you, you both talked about Lionel and Gretchen, even though you didn't hear it from me. Do you remember the first time you heard Lionel's music?
Yes, I remember it very well. It was during an audition for an ensemble that was being advertised at Thelonious Monk Institute. The two of us were the last two among a large number of applicants. I'm the last, and the one just before me was Lionel. I was listening to his performance leaking out. Before that, when I saw him for the first time, he was from Benin in West Africa. He was tall and had such beautiful looks that left an impression on me. His performance gave me the impression, "Wait, is this a guitar? No, he's playing a guitar, and maybe he's also playing percussion." I could also hear him singing. We all knew how good he was, and so did I, but the first time I heard him live was through the door that day. I thought it was really cool and special. Both of us were able to pass the test, and we started performing together in an ensemble.
――Lionel said, "I learned how to control my voice from you. Gretchen's voice blends well with the guitar." Conversely, what have you learned from Lionel?
His guitar sounds like percussion. His sense of rhythm and time is really deep, and his sense of groove is also very unique. Despite this, his music has a sense of stability. He plays in a way that invites the listener in, but also in a way that challenges and confuses the listener. His music includes performances that make you feel like you are negotiating. That's why, as an artist, I never get tired of listening to it over and over, and no matter how many times I listen to it, nothing is the same, and I always hear something new. For example, it's rhythm, phrasing, and textures from instruments. When it comes to textures, not only acoustic instruments, but also effects and pedals are used to create thick and rich textures. On top of that, he even sings his own songs, his voice is really beautiful, and his vocal range is very wide. Moreover, the song also has a percussive part. All those parts inspire me.
When I was a student, when I sang with Lionel in class, I felt that his songs were intertwined with the main melody I sang as an alternative melody. This brings out the percussive side of the music. His singing is instrumental in how he uses his voice. I was also very impressed by the richness of the fabric woven from his songs.
――In 2005, 17 years ago, at the time of your debut work "Gretchen Parlato", you two were working together. I thought that this debut album would be an album in which co-starring with Lionel occupies a considerable weight. What do you think?
It's surprising that 17 years have passed since that debut work. I've known him since I was a student, and I moved to New York at the same time. So when I had a gig in New York, I would ask him because he was one of the few people I knew in New York. Sometimes we did it as a duo, sometimes with a band, but we often performed together. So Lionel was my earliest collaborator. I was really lucky to be able to speak to so many people without hesitation. In retrospect, being able to do that at the beginning of my career is something special. From the beginning, I always thought it was special to be able to make music with this person, and I still feel that way.
◎ Concept of "Lean In"
――It is impressive that you re-recorded the songs you did in your debut album on your new album "Lean In". Please tell us about the concept of this album.
First, we talked about collecting songs that should be the material for this project. The songs that inspired us, especially during the pandemic, were what we were thinking as artists, so we decided to collect songs that reflected those things. , rock, R&B, and traditional.
As for the lyrics, as symbolized by the title "Lean In", the theme was "Let's first look at ourselves (Let's focus)". Accept your own feelings, emotions, and the situation you are in, think for yourself so that you can cherish them, and try to understand them. It's not about ignoring things you don't like and pushing them away. I thought that it would lead to making myself a better person, and that it would also lead to reaching out to others. Through this album, I would be happy if I could give some kind of inspiration to those who listened to it and make them feel that their lives are important. Whether positive or negative, joy or pain, any kind of emotion is part of life, and I hope that you will feel that you are the one who is connected to all of them. That's why the songs recorded on this album are songs that have that kind of meaning for the two of them.
――I feel that the story of facing yourself and taking care of yourself is connected to your previous work "Flor".
I think so. It's something I always want to remind myself, and something I always want to practice. In other words, looking back from the previous work, it may be that I haven't finished learning it yet. That is why this topic has not lost its importance.
――I think your husband Mark Guiliana had a similar story in an interview for his album "the sound of listening". The same idea is shared in my family.
I agree. I want my partner to have the same thoughts, the same beliefs, and the same values. In that sense, I think Mark and I can share similar thoughts and feelings. When something happens, the first thing I want to tell is my family who are nearby. After understanding each other, I think it would be great if we could reach out to the people beyond that, so family is also a starting point.
◎ Composition and arrangement based on the existence of Lionel
――The songs on the album have West African rhythms and are arranged to match Lionel. Could you tell us about this arrangement?
As for my song, I wrote it assuming that Lionel would play it. At the stage of focusing on this project, we shared the material we had, I was in LA and Lionel was in Luxembourg. We didn't even use zoom, we only communicated via email. We both had a lot of materials, so we carved and shaped them. The one I sent was almost a demo, made with just my voice. As for the percussion and the rhythm, it was like presenting only the skeleton. And he overdubbed the guitar and sent it back, and it was perfect for me. So, with a few exceptions, the production process was mostly remote.
――For example, I thought "If I Knew" was an unusual type of song for your originals. It's quite Lionel-like and has a lot of West African elements. How did you write this?
In 2019, I received a fellowship-related commission from the Jazz Gallery and was asked to write an original song. So, even though this song was written long before this project, I actually envisioned that Lionel would join us in the first stage. When we actually did it at the Jazz Gallery, Lionel's participation didn't come true, so this time we were finally able to get him to join us, so you could say it's finally a completed song. There's a bell here, which Mark Guiliana has been playing since the first version. The bell he was ringing was playing all the time, and I was inspired by it, and finished it with verses, choruses, and rhythms. This time, it was completed with the addition of Lionel's genius skills such as guitar and harmony. On the recording, Mark Guiliana played drums, my friend Burniss Travis played bass, and my kid shouted "Yes!" in English and Lionel's kid in French. Because of this, the finished product allows you to feel the energy of the children.
◎ "Nonvignon" re-recorded for the first time in 17 years
――Next is "Nonvignon". This song is a revival of Lionel's song, which is also included in Gretchen's debut work, for the first time in 17 years. It's one of his representative songs that Lionel has recorded many times.
This is a very meaningful song for me. It was the first song he played me after I met Lionel. So my relationship with this song goes back 20 years. After graduating from Thelonious Monk Institute, I moved to New York, and when I was planning my next move, I had some free time, so I thought, "Well, let's record as a duo." I have done At that time, Lionel showed me, "I wrote this song, what do you think?" It's no exaggeration to say that our collaboration started with this song, so it's a very impressive song. Lionel has played this song so many times that he can play it without me. On the other hand, I have sung this song many times, but for me, whenever I sing this song, I am always with Lionel. So for me, it's a song to sing with him.
When we were discussing whether we should record "Nonvignon" again this time, we said, "Maybe the message of this song has a new meaning now." This song is a song that sings the beauty of people's connections, saying, "Let's work together as brothers and sisters." I wanted to re-deliver that message.
Some people might think that "Nonvignon" is simple at first glance. There are few chords, and it feels like everyone can sing together. But it's very difficult to sing while keeping that time. Even when I think I'm singing along with the rhythm, I find myself out of sync. It's a song that deceives you with its rhythm. So, I try to keep Lionel's rhythm, be careful not to be left behind, and at the same time allow Lionel to fly around freely while keeping my feet firmly on the ground. I have to be. Otherwise I can't sing this song. This song is a challenge for me.
◎ Participation in Becca Stevens' composition workshop
――How did the title song "Lean In" come about?
My friend Becca Stevens was doing a workshop online during the pandemic. At that time, I was at a dead end and was thinking, "I want someone to push my back" and "I want some inspiration." So I thought it might be a good idea to take Becca's class, so I signed up for it. There were several songs that were born thanks to that, and one of the main ones was this song. I didn't get any specific guidelines, but I think it's a song that was born from sharing the process of "writing a song" with someone I trust. So, credits are included for that inspiration.
5-week songwriting course with Becca Stevens
www.beccastevens.com
By the way, this was also inspired by Mark Guiliana. I heard the percussion loop he was playing and I put the song on it. Starting with Mark's percussion, four sections unfolded, and Lionel put the harmony on there and it was completed. Sometimes I get inspiration from my friends, and sometimes my friends become my teachers. That's nice, isn't it? Because I think that a relationship where each other becomes a teacher or a student. It's a relationship that makes you feel humble.
◎Klymaxx and Foo Fighters covers
――Next is "I Miss You". This is a cover of a hit song by a group called Climax, which was active in the 80's. You always pick geeky songs that other people don't cover. That's always the best.
This song is from 84. I don't remember if it was on the radio or MTV at the time, but when this song played, it felt like time had stopped, and I was fascinated and shocked. I was only eight years old, but I remember it being a song I really wanted to sing. It's a really nice song. A lot of people think I'm a jazz singer, but I do a lot. So I think it's a good example to show that I have so many different songs in my bag. As for the songs that I have in my bag, I'm always looking for opportunities to do something at some point.
For the cover, I asked Lionel to listen to the original, and then arranged it. The original version is a ballad, so it's completely different from my version, but I didn't change the key. First, I wrote the bass line to show the groove, then put the a cappella on it and sent it to Lionel. On the other hand, Lionel put his performance on it and it was completed. What I aim for when doing covers is respect for the original. Because I want to convey that "there are such good songs". I want to tell you from the bottom of my heart how much I love this song, how I want to interpret it in my own way, and how the story turned out like this when I actually did it. It's possible because the original is so good.
――When you interviewed Aubrey Johnson before, she said, ``When I heard Gretchen and Becca Stevens cover songs from the 80s and 90s, I thought I'd like to try songs from that era I've been digging." I think that the song selection and original arrangement of the cover you came up with has a considerable influence on the later scene.
Wow! That's amazing... You never know what's going to happen... I'm going to repeat what I said about "Lean In" at the beginning, but first I do what I think is good, I always think that it would be nice if I could be an inspiration or help someone else. So the Aubrey thing is that it's actually happening, isn't it? What I did became an inspiration for someone, and it is connected to the point where that person's own expression was born. I'm so happy that it's actually happening.
――Next, please tell us about the Foo Fighters cover "Walking After You".
This is one of my favorite songs in the 90's. I liked the Foo Fighters and Dave Grohl. Their songwriting is wonderful, so every time I listen to it, I think they're really well written. I especially loved this song, so I thought I'd like to try it someday.
I found a key that was easy for me to sing and sent the sound source to Lionel along with the original. Lionel heard it and came up with this arrangement. Furthermore, at the end of the song, we added an arrangement to have Mark Julianna enter, and that version was completed by having her son Marley sing the refrain. The original is a love song written by Dave, and it's a song written for his then-boyfriend, so maybe Dave himself doesn't want to sing it anymore or listen to it much. But I think that by singing it, I was able to share it with everyone again as a universal love song.
――I thought the timing was also meaningful to mourn Taylor Hawkins, but what do you think?
Actually, Taylor passed away just as the recording ended. This version wasn't made as a tribute to Taylor, but when I actually finished recording it, I was like, 'I wonder what Taylor would think if he heard this? I was able to make a cover with a groove that is pretty close to the original version, and the part where my son Marley sings 'I'm on Your Back', so the result is I think it was a real tribute. Certainly, some people may hear it as something intended as a tribute. I think it might be good to leave that to the listener.
» read original article in Japanese with audio tracks and videos