Morgan Enos,  London Jazz News Feature Article, 15 May 2023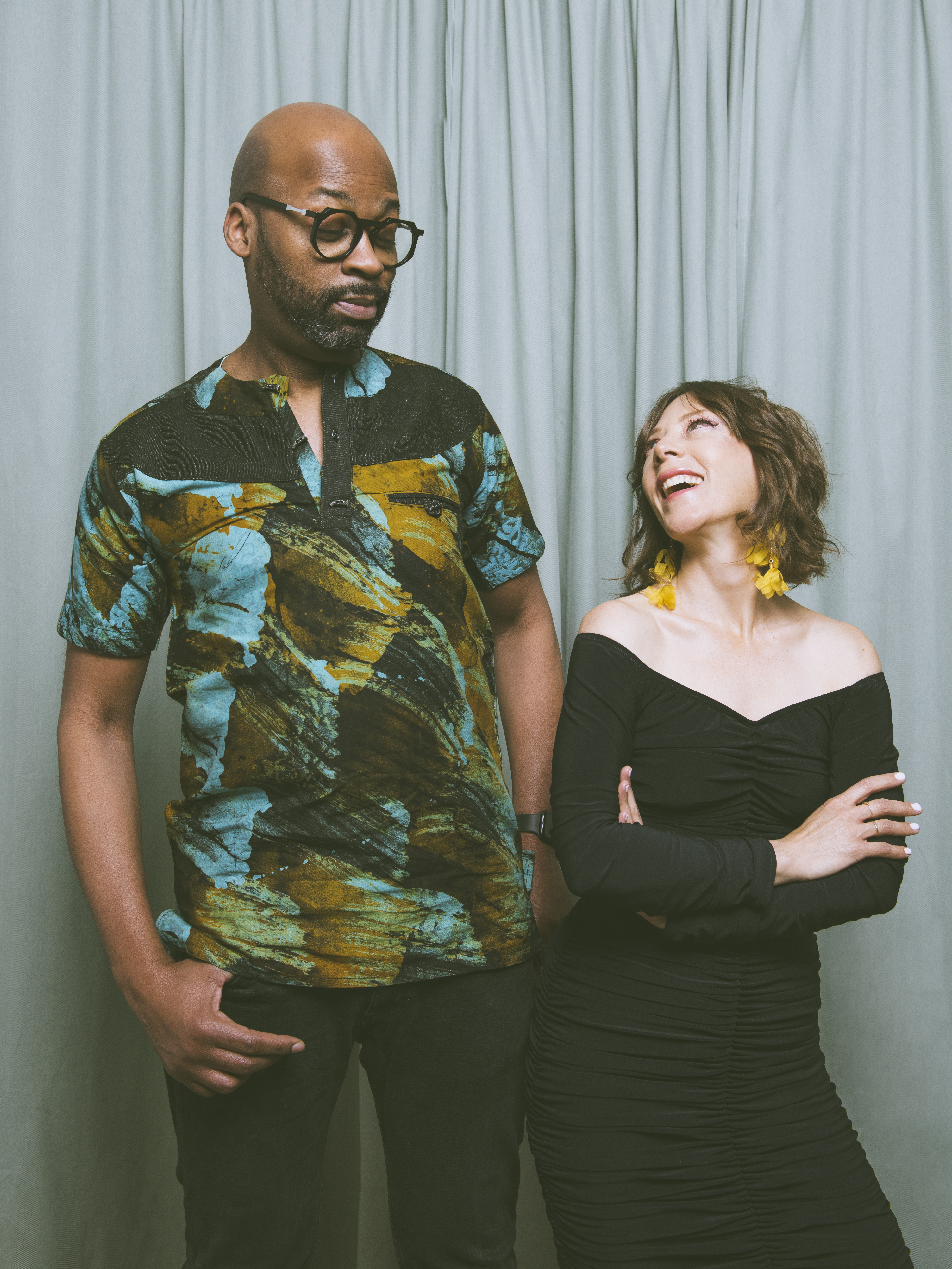 Mondays With Morgan is a column in LondonJazz News written by Morgan Enos, a music journalist based in Hackensack, New Jersey. Therein, he dives deep into the jazz that moves in — his main focus being the scene in nearby New York City.
This week, Enos spoke with celebrated LA vocalist Gretchen Parlato and potent Beninese vocalist-guitarist Lionel Loueke, who are out with their new co-billed album, Lean In(Edition). They have North American dates on the books, and Lean In is up for pre-order — links are at the bottom of this article.
Vocalist Gretchen Parlato may have clocked more than two decades in a creative partnership with guitarist Lionel Loueke — but she still feels the same chills from when they first linked up.
"I remember hearing him through the door of his audition," Parlato tells LondonJazz News over Zoom from Los Angeles. (She's referring to their 2001 meeting, when they were jointly vying to enter the Thelonious Monk Institute of Jazz.) 
"I had the same feeling that I did a month ago when I heard him play with Herbie Hancock, and start a song as a soloist," Parlato continues. "He's always been this way. Your jaw drops; you get goosebumps. He's just somebody who is so unique, and so captivating. And astonishing, as far as what one human can create with his voice and his instrument."
As far as Loueke's concerned, the admiration goes both ways — and he even compares Parlato to one of the Mount Rushmore figures of this music. 
"I think of Miles, in a way. If Miles was singing," he tells LondonJazz News over Zoom from his home in Luxembourg. "That approach to the music is completely wide open. Nothing's too much; nothing is a show-off. Whatever she's singing — it doesn't matter whatever style — you know it's her."
Parlato and Loueke's first co-billed album, Lean In — out May 19 — is suffused with that mutual astonishment. But it also represents far more than that. Loueke hails from Benin, and his artistry is permeated with his heritage — as well as that West African country's artistic and cultural linkage to Brazil. 
And while Parlato might modestly characterize herself as a "little valley girl" who grew into a "valley woman," that belies her profound respect for, and mastery of, Brazilian and West African musics. Without that, Lean In couldn't hold together. "It's an admiration and an adoration I've had for both those genres," she says, "since I discovered them as a teenager."
Lean In has plenty more components that can provide endless entertainment and edification. The rhythm-section contributions from two celebrated cats — bassist Burniss Travis and drummer Mark Giuliana, who happens to be married to Parlato — for one. 
To say nothing of the highly variable source material — from the '80s funk band Klymaxx ("I Miss You") to early Foo Fighters ("Walking After You") to originalslike "Lean In" and "Painful Joy." Mid-album cut "Astronauta," by composers Carlos Pingarilho and Marcos Vasconcellos," amounts to the Brazilian heart of the matter. 
And all of it's held together by the enveloping, human-first production — Loueke's guitar and vocal percussion being a massive part of that — as well as Parlato's sumptuous voice and rhythmic and harmonic thinking.
In the following interview, Parlato and Loueke tease out these various components of their incredibly fruitful artistic chemistry — as well as the various streams that flow into the sea of Lean In.
LondonJazz News: How did your creative and professional partnership come to be?
Gretchen Parlato: We met at our audition for what was then called the Thelonious Monk Institute of Jazz. Now, it's the Herbie Hancock Institute. This was in 2001, or maybe even the audition was in 2000. So, it's been over 20 years. We both auditioned and then joined the institute as an ensemble. We spent two years in an ensemble together, and realized that we wanted to try playing as a duo.
From there, we moved to New York City and just kept it going. It branched out to us being involved in each other's projects, and different larger ensembles, but the duo was always something really special at the core. Now, all these years later, we finally were able to dedicate some time to a duo project.
Lionel Loueke: It was clear for me, musically speaking, that Gretchen and I had something really unique — the way we played together. We did a lot of stuff in New York, and it confirmed we could keep growing our connection. I played on her [2005 self-titled] CD [as well as 2009's In a Dream], and she played on mine [2006's Virgin Forest].
We've been talking about this project for a while, and the timing was perfect. 
LJN: Tell me about the various cultural strains that commingle on Lean In, including those of Benin and Brazil.
LL: They're part of who I am. I'm from Benin, West Africa, and Benin was an old French colony. But before the French arrived, it was Portuguese. So, you have a big connection, culturally speaking, with Brazil. As a matter of fact, my mother's name is Monteiro. 
I grew up eating feijoada. It's the most famous Brazilian food. I thought it was a food from Benin until I found out later, in Brazilian culture, that after slavery, some of the slaves went back to the coast of Africa bringing their culture.
I grew up in Africa, then I lived and studied in France for a while. And then, from Paris, [I studied at] Berklee College of Music [in Boston]. It's that melting pot of culture that comes through in what I do.
GP: [Lionel] has this rich culture and heritage that he brings to how he plays. I'm just a little valley girl [laughs]. Valley woman, I guess, now. But I've been a deep admirer of Brazilian music and West African music. We both studied jazz for decades, so there's those strains in the music. 
Also, I always love bringing soul, R&B, pop, rock — the different genres of American music — into the mix. Lionel writes his original music, too, so there's a lot going on. Even though that's the case, I think with Lionel, he can play anything. 
To me, the goal is to always have it sound consistent and have continuity of the project — no matter the genre.
LJN: Gretchen, what led you to possess the ability to operate within the musical spaces of Benin and Brazil in a thoughtful, personal and respectful manner?
GP: I think, for me, it's an admiration and an adoration I've had for both those genres since I discovered them as a teenager. To me, it was loving this music and being embraced pretty young by people from those cultures, and being really warmly welcomed in to participate in the music.
With Lionel, he can really master and play anything, and it's just a thrill to collaborate with him. He welcomes me into the music and makes it feel like I can easily be part of it, and participate in it and create with him. He makes it feel easy, in that sense, yet what he does is beyond-words difficult and challenging.
LL: She's one of a kind for sure. If you just listen to her singing in Portuguese, you might think she's from there — absolutely. She just nails it, all with a finesse. Her sense of rhythm — nothing's too much. Everything's floating naturally. She has big ears, a beautiful timbre — the list goes on.
LJN: How would you characterize your creative arcs leading up to Lean In, both together and apart?
LL: It's a beautiful arc; it's a beautiful journey.
I got the chance to play with so many different types of musicians. That also helped me to dig up that language. Many people think I'm Brazilian; I'm not. My rhythmic sense sometimes makes them think of Brazil. There's a part of it from where I grew up, but the home base is Africa for sure.
Moving to the United States gave me the chance to work with so many different jazz musicians. Being here, living in Europe, I played with different musicians — working with Angélique Kidjo, my big sister from Benin. 
I think all that shaped the way I approach music in general, but I don't change my heart if I'm playing African music or jazz or Brazilian. It's all the same — just a different approach to the music. No matter what style of music I'm playing, the most important thing is what I can bring to the music. That's mostly my focus.
GP: The creative outlet was always reflective of what was happening in my life. The point was to be an artist where the art reflects our life. I think everything that I've written creatively, you can tell what stage I was at, and you can tell what was going on. 
Now that I'm in my late 40s and a mother — Lionel and I are both parents — there's a more grounded and nurturing aspect to the music. One that's about our families, but also about the community and our world as a whole. A sense of: What can we do to serve everyone, and to heal, and to transform everybody? We need that in our world right now.
It's just being grateful. In a word, it's just gratitude.
LJN: Tell me more about the concept of family, and how that plays into Lean In.
GP: We both have our children featured on the album a little bit. Lionel's daughter is on a track; my son is on a couple of tracks.
I think because Lionel and I have known each other for over 20 years, and knew each other when we were in our 20s and, now, as parents, we know what that shift feels like. We can relate to each other in what that means as artists — to balance your creative life and your life as a parent.
Everything that we write is reflective of that, and both of us are big on family being a priority. Giving to the next generation of our kids, and thinking of how this music will impact and help them.
LJN: Can you talk about what Burniss Travis and Mark Giuliana brought to the record, and what you both appreciate about those guys? Why they were perfect to bring home this particular assemblage of things and feelings?
LL: I used to play a lot with Mark. We did a recording with Robert Glasper and Derrick Hodge [2012's Heritage, which also features Parlato on two tracks, released on Blue Note Records]. We also did some touring in the States and Europe. 
I always loved his playing. Of course, I knew that it would be magical. It didn't take that long because we just got together — one-take kind of playing. We didn't want to make anything super perfect. We just wanted to play naturally and see what we got.
I met Burniss through Glasper, actually. He's a monster. Amazing sound and groove. I love the way he plays. It was just a perfect connection and combination of people at the right time. It happened that he was also in LA at that time — I think with Glasper — so we invited him in the studio to join us.
I love those two guys. No question about it.
GP: Burniss is a real spiritual, beautiful soul of a person, and a musician. I love playing with him. I thought of him to add to a few tracks on the album and give us that bottom — the weight and grounding. 
He's a dad; I think that does add to the energy of the project, and it adds to his sense of being a nurturer and spiritual person. He's really one of the most ridiculous bassists, so it was so cool that he was able to come. 
He played on the track "If I Knew," and also, the interludes on the album were taken from improvisations that he, Mark and Lionel did. We just hit "record," they played for about half an hour, and then we found some minute-or-two-long snippets that we turned into interludes. I wrote melodies over those, Lionel wrote lyrics in his dialect, and those turned into the interludes that you hear.
And then, Mark — yes, he is my husband, but he's also a drummer that I would have chosen to be a part of this project and sound. One of the greatest, most unique drummers that I know and love. To have him on the project obviously means a lot personally, but he and Lionel have a really great history — I think they have a really cool sync with each other.
And Burniss as well; Mark, Burniss and I played together on tour for many years. So, it was a great way to have everybody included. It is a duo project at the core, but to have these special guests brings everything to a bigger picture.
LJN: I had no idea you and Mark are married! How has your creative partnership evolved in parallel to your personal one?
GP: It started as bandmates — meeting him and being musicians on the scene. We met at Mercury Lounge in New York City many, many years ago. 
He was recommended, actually, by Justin Brown — another great drummer who I've played with. He said, "You should call Mark! He'd be great in your band!" Of course, hearing him, I realized that Justin was absolutely right. It started out as just him playing on tours of mine and developing, at the core, a really great friendship and musical bond. And then realizing: Oh! You're the one!
Now, it's something we can share, and share with our son. We also have a balance. Mark obviously does many different projects, and so do I, so we can balance our individuality as creative people. But when we come together, it's something really special.
LJN: I don't typically think of Foo Fighters as they relate to the jazz idiom. Can you talk about the interpolation and incorporation of "Walking After You"?
GP: It's a track I heard in the '90s. I was intrigued; I loved it; I thought it was a really beautiful song. 
When Lionel and I were figuring out the repertoire for the album, it was all done remotely, because he's in Luxembourg and I'm in LA. We were emailing and sending each other song ideas and demos and things. I just had that on the list; I thought, I'd love to do something with this song.
I gave him the key I would sing it in, and Lionel sent back the arrangement that you hear — the odd meter and the harmony. That's totally Lionel's creation. 
Then, we developed in the studio, and I thought it would be really lovely to have Mark come in at the end and hint at the original drum part of the original track — and have [our son] Marley come in and sing the hook at the end. 
It's become really profound in a beautiful but, of course, heartbreaking way, because Taylor Hawkins, the Foo Fighters' drummer, passed away. When we recorded the song, he was still with us, and then he passed a few weeks after. 
So, it really turned the song into something much deeper than we realized. Now, I can only think of him when I hear the song.
LL: My goal, always, when it comes to arranging, is: we already know the original. So, we're not trying to make it better. It's just different. Our input is what we bring to the song that everybody knows. 
It's a challenge, because everybody knows it, and you know it. Where do you take it from there?