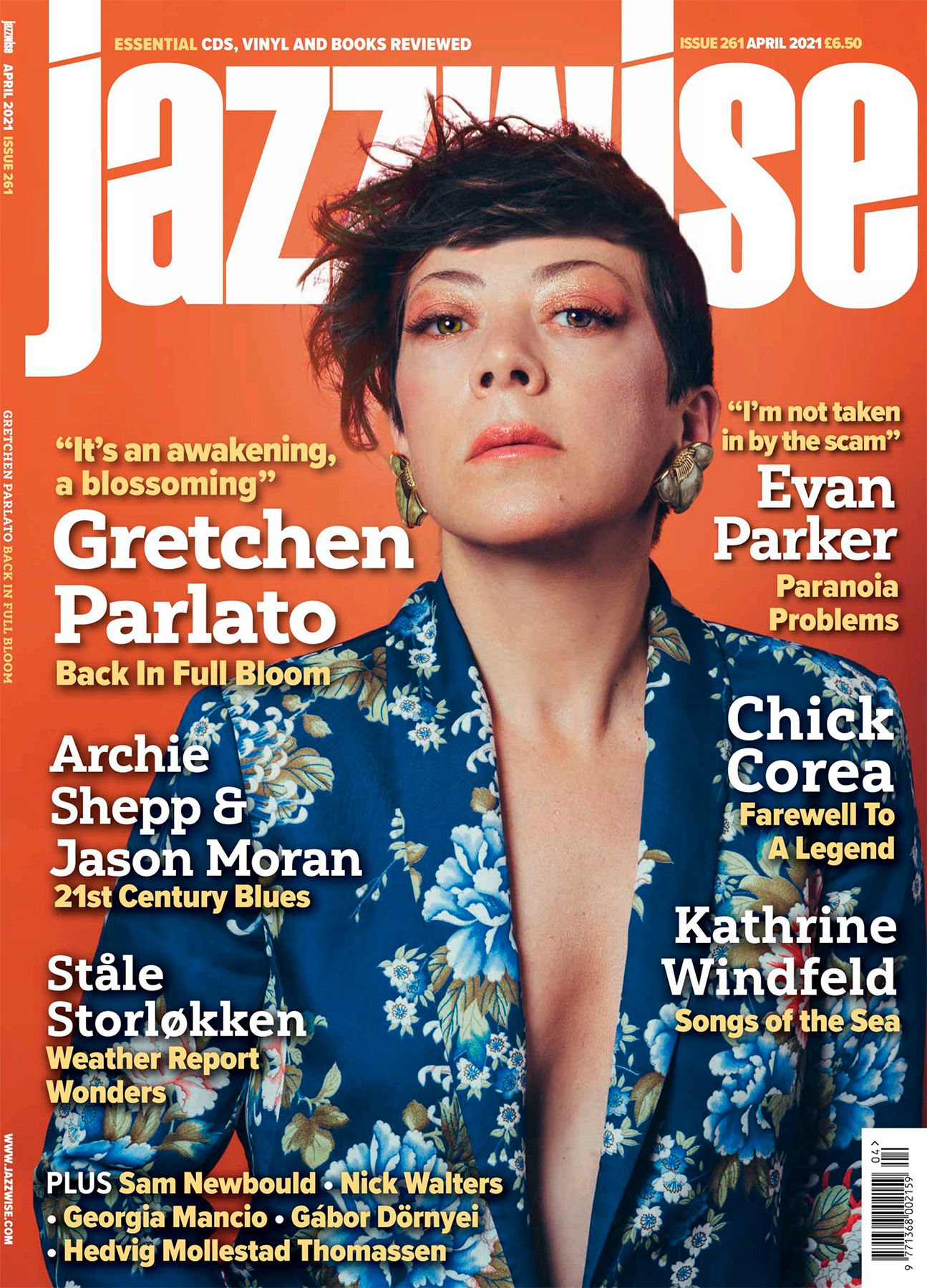 by Peter Quinn, April 16, 2021
Gretchen Parlato's brilliant new Brazilian-flavoured album on Edition is her best yet, says Peter Quinn. He spoke to the composer-vocalist to find out what's behind this latest blossoming of a remarkable career 
[photo: Lauren Desberg] 
It starts indistinctly with glacial cello harmonics, softly strummed guitar and subliminal percussion creating the effect of gently flowing water. Guitar and percussion then lock together and establish the subtle, gossamer-like pulse. And then, 43 seconds in, you hear the voice: "Here, open eyes before the sun". The soundworld is different, but that voice – one of the most dreamily mellifluous timbres in jazz – is instantly recognisable. Gretchen Parlato, the Grammy-nominated composer and vocalist, and one of the most imaginative and inspiring artists on the scene, is back. And oh, how we've missed her. 
Released on Edition Records, the long-awaited, Brazilian-inspired new album – entitled Flor, Portuguese for 'flower' – presents Parlato's LA-based quartet of the same name, featuring São Paulo-born guitarist and musical director Marcel Camargo, Rio de Janeiro drummer and percussionist Léo Costa, plus Armenian cellist Artyom Manukyan, who collectively support, envelop and weave in and out of Parlato's infinitely flexible vocal lines. 
"It's a return, it's an opening, it's an awakening, a blossoming," Parlato says of the new album, via a Zoom call from Los Angeles – her hometown where she returned to live about a year and a half ago with her husband, drummer Mark Giuliana, and their son Marley, following an extended period in NYC. "When you think of the seasons of a flower being dormant, that represented my time away as a mother, away from the scene. And maybe people were thinking, oh no, what happened to her, she's not producing anything, nothing's happening – the way you would see a flower in the winter. And then as soon as spring comes and you see a little sprout, and then it blossoms and it's there again – everything was happening, you just didn't see it." 
[photo: Lauren Desberg] 
Flor seems to contain all of the things that Parlato loves: Brazilian music, original music, judiciously reworked R&B – here it's [Anita Baker's] 'Sweet Love' recast in a grooving 5/4 – and that playfulness in terms of the way she bends genres entirely to her own will. I ask her if it feels like a kind of summation of her musical life so far. 
"I like that word," she replies. "I think another word could be a continuation. Each album I've put out has represented that place in time. But you're right – I'm kind of gathering everything from where I started to where I am now. And there is a sense of nostalgia in choosing Brazilian music as the theme because it's something that represents an early love as a teenager, something I've always loved but never really paid respect to in a full album." 
For fans of Parlato who have followed her music closely, her return with a full-blown love letter to Brazilian music seems the most apposite thing in the world. In terms of Parlato's musical DNA, the influence of Brazil has been profound. And, recalling her first encounter with this music – and how it made her feel – her love for it is clearly deep-seated. 
"I'd have to flashback to a memory of being maybe 13 or so," she tells me, "and flipping through my mother's vinyl collection and finding Getz/Gilberto, the classic 1960s bossa nova album, and being really intrigued by the abstract artwork and bright colours on the cover. And then putting it on – and it was vinyl, so there's a real nostalgia for music lovers, to actually hold the album and put the needle on the record. Sitting on the floor, just listening, the feeling was – it's funny, the first word I can think of now is almost like acceptance, or a welcoming. It was really João Gilberto's voice, hearing his intimacy, his delivery and his phrasing, and the sound of the whole ensemble. And the detail – it takes you high, it takes you low. Even as a 13-year-old, I could feel it validated that there was something really powerful about what seemed to be intimate and understated, yet didn't mean weak and fragile. It can be just as moving and just as deep." 
[photo: Lauren Desberg] 
Released in March 1964 on Verve, and also featuring the talismanic presence of Antônio Carlos Jobim plus vocalist Astrud Gilberto in her first professional recording, the critically acclaimed, Grammy-winning Getz/Gilberto – one of the albums that put bossa nova on the world stage – is remarkable for its deep sense of melancholic longing and yearning, both in terms of the vocals and the music. 
Was that melancholic quality, that almost untranslatable Portuguese term 'saudade', also something that attracted Parlato, even at that young age? 
"I'm sure it did without me realising. At 13, I probably didn't even know what language it was, to be honest. But I think you're right, there's so much emotion and depth in the music that, to me, you don't have to know what's being said, you can feel it through the music." 
Like the great Brazilian vocalists, Parlato's rhythmic approach and phrasing of the melodic line somehow makes the bar line miraculously disappear. Asked if this was something she deliberately studied and worked on, or if it was something she almost assimilated by osmosis, she reaches back to an even earlier childhood memory. 
"I think it's probably a combination. When I recorded 'Butterfly' with Lionel Loueke [on her 2009 album In A Dream], I used a recording of myself at two years old when I was singing in the bathtub and making beats on the water. I think it's nature and nurture. Music was played in the house, live and on recordings, so I was exposed to a lot when I was little. Rhythm was always intriguing – a deep listening study of João Gilberto and his phrasing single-handedly taught me so much, just listening and by ear. It wasn't that I transcribed and wrote anything out or took a course on the phrasing of João Gilberto," she laughs. 
Parlato also had the good fortune to study ethnomusicology at UCLA, where performing in a West African percussion ensemble helped her discover the interconnectedness of the different percussion parts, as well as having to sing and play at the same time. One of her stylistic fingerprints is the way in which she uses her voice just as a pure instrument, as another layer within the polyrhythmic musical fabric – listen, for example, to 'I Can't Help It' or 'Weak' from In A Dream. Is this something that came from that study of West African percussion and hearing that interlinking of lines? 
"I think so," she notes, "and I can pinpoint even earlier hearing someone like Bobby McFerrin and his solo vocal albums in the early 1980s. I heard that as a young child – I think the first time hearing him was singing The Cosby Show theme song. I remember thinking, wow, I know that melody but that's all just voices. It was really amazing and enlightening to me, to think somebody can actually do that. And then you think, yeah, somebody can do it – only he can do that." 
Featured as a guest vocalist on over 85 albums, including Esperanza Spalding's Radio Music Society and Chamber Music Society; Lionel Loueke's Heritage and Virgin Forest; Kenny Barron's The Traveler; and Terri Lyne Carrington's The Mosaic Project, Parlato's previous four albums as a leader began with her self-titled debut, released in 2005, recorded shortly after she won the 2004 Thelonious Monk International Jazz Vocals Competition at the Kennedy Center in Washington D.C. The panel of judges included Quincy Jones, Flora Purim, Al Jarreau, Kurt Elling, Dee Dee Bridgewater and Jimmy Scott – so no pressure. The follow-up, the aforementioned In A Dream, was described by Billboard as "the most alluring jazz vocal album of 2009". One of the standout releases of 2011, The Lost and Found was garlanded with numerous awards including No.1 Vocal Album of the Year in the DownBeat Critics Poll as well as iTunes Vocal Jazz Album of the Year. For the brilliant Live in NYC (2013), Parlato received a much-deserved Grammy nomination for Best Jazz Vocal Album. 
Listening back to all four albums, you're reminded of what a fine composer Parlato is. A song such as 'How We Love' from The Lost and Found features that characteristic rhythmic displacement in the vocal line, with stresses on different beats of the bar making the music seem to float in mid-air. It doesn't appear to be tethered to the earth in any way. 
"It's great you thought of that song," Parlato tells me when I namecheck it, "because I remember the process, specifically, was that I wanted to give myself an exercise of writing more continued phrases. I felt like I was writing a lot of repeated phrases and repeated sections. And I thought, what if I give myself an exercise where I make up a phrase and the last note of that phrase has to be the starting note of the next phrase. So that's what I did. I remember I was living in New York City, in the Upper West Side, and I was doing dishes. I had a lot of inspiration around water, either taking a shower or doing the dishes and having water running, I don't know why. So, yeah, that melody [sings the verse of 'How We Love', phrase by phrase] – it was all connected, and that was my goal with the verse. The chorus was a separate idea that I put together as a puzzle piece, and then the words came after. It was kind of skeletal, very basic harmony, and then Kendrick Scott [drummer on The Lost and Found] heard it and said, wow, I'd love to arrange this for you. That really cool altered harmony and rhythmic stuff is all Kendrick's arrangement. I love how that all came together. 
"I've thought of melodies just riding the subway or taking a walk or laying down after a yoga class. I always have some kind of device with me so that I can capture the inspiration, because I don't know when it's gonna come. Now as a mom and having a six-year-old running around, I actually need to give myself very specific time that's isolated and quiet in some way." 
Flor also presents fascinating new facets of Parlato's artistry, not least a mesmerising quartet arrangement of the minuet from JS Bach's 'Suite No. 1 in G-major, BWV 1007'. 
"Yeah, I've never sung anything in that style on a recording, yet that is also a little kind of throwback to singing really exquisite music in choirs in elementary and high school. So it was going back to that pure voice – definitely Bobby McFerrin influenced as well. 
"I don't even think about the syllables, it was just what's the most effective way for this note to come out in a pure way? And I didn't want to change my voice, I didn't want my voice to sound in any way other than just me, and natural and genuine. 
"I went to Los Angeles County High School for the Arts and the choir teacher, Mr Waddell, was so wonderful. One of the first pieces we sang was Carmina Burana – they combined the orchestra and the choir, and it was incredible. I was 15 years old, and it was the most thrilling feeling. He had us singing Brahms and Britten, very abstract music for teenagers to sing. I'm sure that had a big role in hearing intervals, and hearing the rub, and hearing the dissonance, and really loving it. When we can get back to being in person, I would love to join a choir and sing like that again, and especially have my son join a children's choir, because they don't have music classes as they did when I was young." 
A sublime, intensely personal synthesis of musical loves, which brings together both the familiar and the new, Parlato's Flor also possesses a pleasingly cyclical quality. Just as the opener 'É Preciso Perdoar' begins "Here, open eyes before the sun", the album's final track, a stunning cover of David Bowie's 'No Plan' from his posthumously released EP of the same name, similarly begins: "Here, there's no music here / I'm lost in streams of sound." The Bowie cover features Mark Guiliana, who played on both the EP and Bowie's final album, Blackstar. 
"It wasn't planned based on the lyric," Parlato notes. "It was one of those magic moments when we realised – wow, look at that. When I thought of the pacing of the album and the sequence, it did feel like it came full circle to come from the lyrical place of waking up in the morning to this – the Bowie song can be interpreted in many ways, but to me it feels like it's kind of facing your death. 
"It has this beautiful darkness to it. It was one of those moments that was not intentional, but when I placed the songs in that order, it made perfect sense to do so. Those English lyrics in the first song were my own, and that was another attempt at writing something that was very closely translated from the Portuguese. 
"The Portuguese translation of that title is 'One Must Forgive'. So I thought about, what is forgiveness? And what is letting go? And what is acceptance? Those ideas definitely became a theme for a lot of the songs – it's appreciation, and uplift, and joy, and happiness, but also accepting the sorrow, and accepting the transitions and the changes as well."