By Arushi Avachat, Jan 5, 2022
Gretchen Parlato's "Flor" reflects on blooming into motherhood.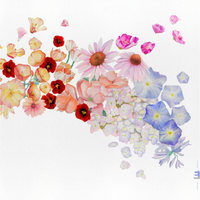 Following the birth of her son, the alumnus and singer said she felt a desire to capture her emotions and experiences through music. The resulting Brazilian-inspired record, which features nine songs consisting of both covers and original music, received a 2022 Grammy nomination for Best Jazz Vocal Album. Parlato said she collaborated with artists she admires to synthesize American pop, Brazilian jazz and other cultural influences into one cohesive album. 
"Doing a Brazilian-inspired project felt like a blossoming and a returning to a love that I've always had," Parlato said. "(Bossa nova) is such an intimate style of music." 
As a musical child, Parlato said her interest in Brazilian jazz began at 13, when she discovered João Gilberto, a pioneer of bossa nova music. Parlato said she was mesmerized by Gilberto's rich voice and artistry, crediting him for a lifelong admiration of the genre. Later, as an ethnomusicology student at UCLA, Parlato said she continued to specialize in jazz studies and nurture her passion for Brazilian music, gravitating toward jazz ensemble courses focused on diverse musical traditions. 
[Related: SOUNDWALK: UCLA Campus is music to new, returning Bruins' ears] 
Following graduation, Parlato said she relocated to New York City to pursue opportunities in the jazz world. She said she furthered her career through both embarking on solo projects and appearing as a guest on more than 90 albums, all primarily in jazz vocals. When she took a break from music to focus on raising her son, Parlato said these professional experiences motivated her to create a collaborative album on motherhood. 
"It was a good handful of years before I had any kind of thought or inspiration musically (and) artistically for myself. I was really just in the mothering world and wonderfully caught up in that," Parlato said. "('Flor' is) a way to express those years, … and (it has) a universal theme for when you've had a more intimate time in your life and then you're opening up and returning back." 
This theme of family and motherhood is particularly central to the track "Wonderful," Parlato said. In this song, children – including Parlato's son – contribute background vocals and phrases, creating a sense of childhood joy and invincibility. The musician said she worked with fellow alumnus Marcel Camargo to develop "Wonderful" and other tracks by planning instrumentals and organizing arrangements. 
Camargo said he met Parlato while at UCLA, and what began as a college friendship soon morphed into a long-standing professional relationship. From playing at parties to performing at Kerckhoff Coffee House, Camargo said he and Parlato continued their partnership after graduating through performing live together and working on one of Camargo's records. Camargo said it felt natural to then collaborate with Parlato on "Flor" specifically, as he was raised in Brazil and grew up surrounded by Brazilian music. 
"Brazilian music has always been there, so it's part of what I know," Camargo said. "This record is a lot about beauty and positivity and communication. … That's a big part of (Parlato's) statement." 
In addition to the album's centering of Brazilian jazz, Parlato said she especially enjoyed creating covers of classic Western songs such as Anita Baker's "Sweet Love" and David Bowie's "No Plan." Parlato said she was excited by the challenge of recording covers that preserved the integrity of the original songs while also employing an innovative new approach by experimenting with tempo and harmony. Ultimately, Parlato said she wanted both her covers and originals to fit seamlessly together in one record despite their varying musical features. 
In particular, Parlato said her cover of "No Plan," which features her husband and creative collaborator Mark Guiliana, was a project with deep significance. A jazz musician himself, Guiliana worked on Bowie's original recording of "No Plan" in 2015. Guiliana said the opportunity to perform on Parlato's version of the track was a meaningful homage to Bowie, as well as a personal joy given his relationship with Parlato. 
"(The collaboration) was very natural," Guiliana said. "There's a lot of love in the record, … and the world always needs that but particularly now. I'm grateful (Parlato) put such a positive record out." 
[Related: Angel City Chorale to bring music, community to UCLA with holiday performances] 
As Parlato looks forward to the Grammy Awards later in January, the artist said she is excited for future projects and appearances. Health guidelines permitting, Parlato said she is hopeful to resume touring and live performances soon. She said she credits "Flor" for reigniting her creative spirit following her hiatus from the industry and inspiring a domino effect of more music making. 
As for the success of "Flor," Parlato said she feels gratitude for the professors and community she found while at UCLA, which she continues to be shaped by. She said her rich curriculum and collaborative classmates helped cement her love for her craft. These early years were fundamental in building her musical career, she said. 
"The (UCLA) ethnomusicology department was a huge part of opening my ears to different kinds of music and this thought of incorporating music from all over the world," Parlato said.