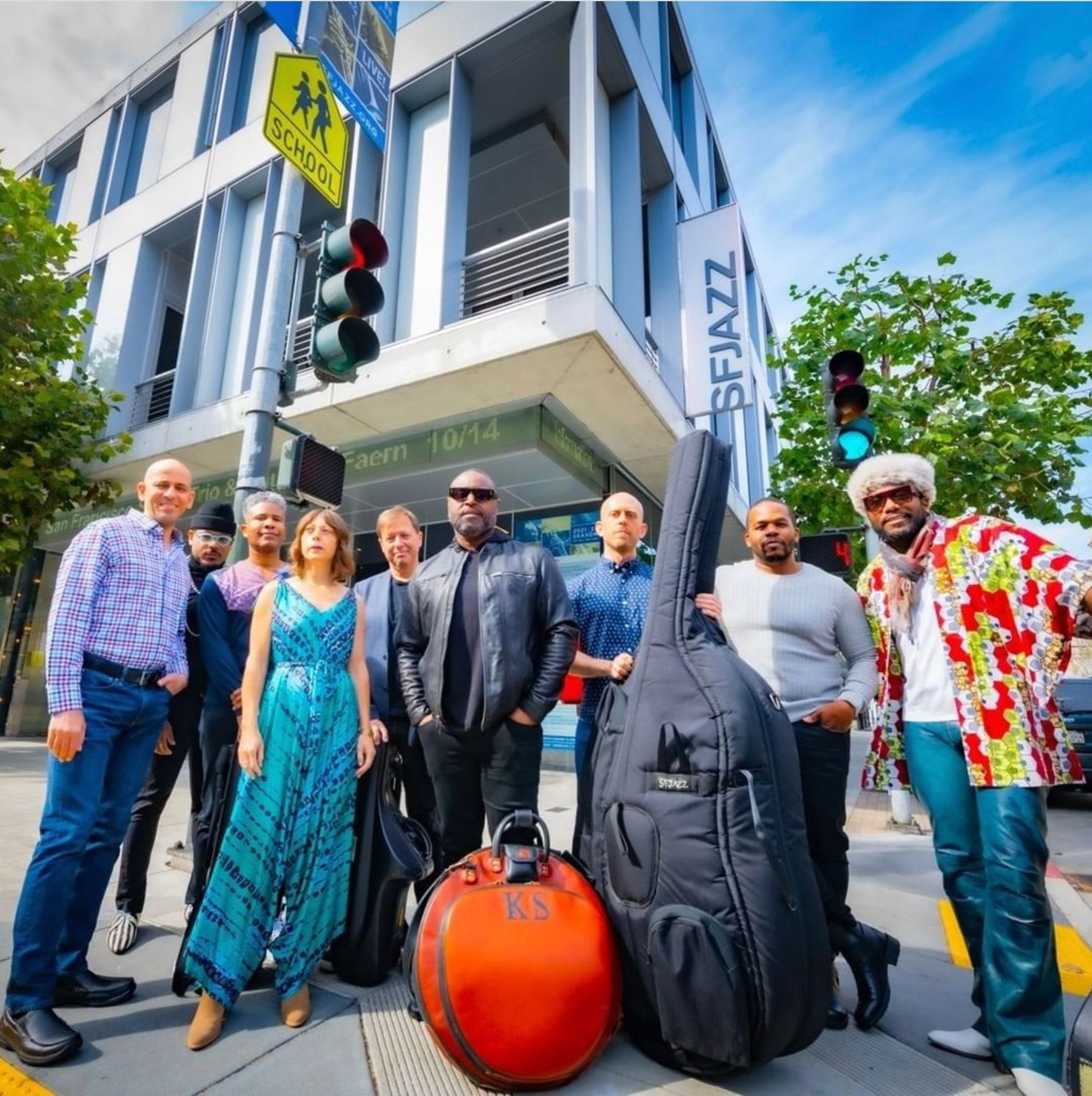 Yoshi Kato, Downbeat Magazine, 11/09/2021
For the second time in three years, the all-star SFJAZZ Collective is shifting its paradigm. 
Since its founding in 2004, the SFJAZZ Collective had the same instrumentation: trumpet, tenor and alto saxophone, trombone, vibraphone, piano, double bass and drums. And for most of its 17 years, SFJAZZ's house band had a standard approach of honoring a composer or a songwriter, ranging from Ornette Coleman and Horace Silver to Michael Jackson and Stevie Wonder. Members of the octet would arrange a piece from the artist's songbook and also write an original for the octet. 
That approach shifted radically prior to the 2019–'20 season. Trombone and alto saxophone were replaced by vocals (courtesy of San Francisco native Martin Luther McCoy) and electric guitar. There were no originals written that year, and the band instead focused on two albums celebrating 50th anniversaries in 2019: In A Silent Way by Miles Davis (whose entire body of work was the subject of the collective's 2016–'17 season) and Sly & The Family Stone's Stand! 
SFJAZZ had announced more changes to the group last year, and the new-look roster finally made its debut at the end of October. It was part of the non-profit performing organization's 2021–'22 season at the SFJAZZ Center and a few other venues, which are being held with in-person audiences as well as 14 months of hosting its weekly streaming Fridays at Five series and other online events. 
With the departure of guitarist Adam Rogers and drummer Obed Calvaire, the first-time nonet features new members Chris Potter (tenor saxophone, bass clarinet, bass flute), Gretchen Parlato (vocals) and Kendrick Scott (drums) in addition to returning members McCoy, Etienne Charles (trumpet), David Sánchez (tenor saxophone), Warren Wolf (vibraphone), Edward Simon (piano) and Matt Brewer (bass). Instead of interpreting a songbook or an album, collective members have written originals inspired by, and in response to, the social and global issues we have faced over the last year. They performed those along with a handful of self-arranged covers of songs by the likes of Nina Simone, Marvin Gaye and Abbey Lincoln. 
"We had to figure out how to best present this band that has had this incredible history," said Randal Kline, SFJAZZ founder and executive artistic director, by phone from his SFJAZZ Center office in San Francisco's Hayes Valley neighborhood. "Originally, it was going to be the music of Joni Mitchell. And then COVID hit and George Floyd and all of the other associated murders happened. It became clear that there was something different going on and that we ought to see how we could remark on this. 
"Another change we have is that we have a music director, Chris Potter, for the first time since the beginning" when collective co-founder Joshua Redman served in that role, he continued. "What the music director does in a collective setting is help shape the music. But when it's your tune, you're the leader." 
"I think it's actually proven to be useful so far, especially since we haven't been able to be in the same place at the same time," Potter said prior to the new collective's first rehearsals in mid-October 2021. Reached by phone at home in Brooklyn, he added, "Since we've only met virtually so far, it's been more me passing messages on to Randall and trying to coordinate everybody's opinions." 
Twenty years ago, Parlato found herself in a similar situation to where she is now. The Los Angeles native was accepted into the Thelonious Monk (now Herbie Hancock) Institute and was the only dedicated vocalist among a group of instrumentalists. "Now here I am at 45, and I'm given this similar opportunity," she said by phone from her home in Los Angeles. "So, I'm using the same tools that I did back then to find my way as part of an ensemble, in a traditional way as a vocalist with lyrics, or lines that I can sing in unison or harmony." 
Like a baseball team rostered with talented utility players, this version of the collective is already characterized by its creative flexibility. In addition to developing her distinct brand of wordless singing, Parlato also doubles on percussion — as does Charles and Sánchez. McCoy plays guitar, Simon and Wolf also play electronic keyboards, and Brewer doubles on contrabass and electric bass. "There's so much that this band can do right now," Parlato observed. 
The collective made its debut over four consecutive nights in late October at the SFJAZZ Center. Its October concert will be available on-demand starting Nov. 10 for a fee of $5 for SFJAZZ members and $10 for non-members. 
"It's been quite a journey," Potter concluded, with a chuckle. "I feel like we've really been on a roller coaster already without ever having been in the same room together." DB