by Nicky Schrire, LondonJazz
"I met Parlato in 2007—she lugged her amp up stairs, through awkwardly shaped turnstiles, and performed to a near-empty venue...her friend, Espe, sat in on a couple of duo tunes. Esperanza Spalding, to be clear."
A major new album– after eight long years – from the much admired and hugely influential vocalist GRETCHEN PARLATO is something to look forward to in 2021. She and fellow singer Nicky Schrire met – remotely, across continents – and talked… 
The prospect of interviewing vocalist Gretchen Parlato for LondonJazz News prompted flashbacks to fancy Vanity Fair and New Yorker profiles. We'd meet at a wood-clad coffee joint and she'd ask for almond milk and honey in her tea. In reality, it's 2020 and the pandemic that has shaken the world asunder means we are "meeting" over Zoom. Parlato is in Los Angeles and I'm ten hours ahead of her in Cape Town. However, all is not lost. We both cradle mugs of tea, which we sip throughout our hour and a half virtual chat.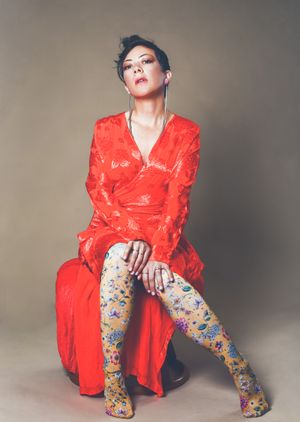 When Flor, Parlato's latest album, is released in March 2021, it will have been eight years since her last record (2013's Grammy-nominated Live in NYC). She references the fact that people expressed concern at her apparent "disappearance" from the jazz world roughly six years ago when she and her husband, Mark Guiliana, became parents to their son, Marley. 
"Parenthood in jazz doesn't get talked about much," she muses. "It is a choice that transforms you, your lifestyle and your priorities, especially as an artist. Finding this balance can take time, and there are many paths to take." For Parlato, it was a deliberate decision to take time to honour motherhood and make the most of precious firsts with her child. 
Parlato's steady trajectory reads, to me, as a reflex-angled graph marked with careful decisions that yielded great results. Others see her rise as meteoric and the stuff of movies. The fact is, when I met Parlato in 2007 for a private voice lesson during a brief visit to New York, I found myself sitting in her bedroom while she fashioned a piano stool out of the edge of her bed and plugged in her electric keyboard, careful to lower the volume so as not to disturb her flatmate. After the lesson, she had a gig at the Bar Next Door in the West Village to which she lugged her amp up stairs, through awkwardly shaped turnstiles, and performed to a near-empty venue. In the second set, her friend, Espe, sat in on a couple of duo tunes. That's Esperanza Spalding, to be clear. 
It was a lesson in more ways than one. Three years after her prestigious win at the Thelonious Monk International Jazz Competition, Parlato was still hustling, alternating between bucket list concerts in Paris with Wayne Shorter and tip-jar gigs in New York's brutal but brilliant jazz playground. This was both the cliché and the reality. She reminds me of this memory, saying "It was such a New York thing, and a certain time of my life". We laugh at the absurdity of her previous teaching set-up. "Teaching today, I would never have students come into my bedroom! Those are cherished memories at this point." 
While the general atmosphere of Flor builds on Parlato's established style and favoured brand of rhythmic collaboration, it will surprise people to learn that the seeds for this album were sewn long before her previous four recordings. Parlato and Brazilian guitarist, Marcel Camargo, met while both students at The University of California, Los Angeles over 20 years ago. "Marcel has always been an important part of my exposure to and performance of Brazilian music," Parlato says. Her affinity for Brazilian music has been evident throughout her recording career with notable renditions of Djavan's Flor de Lis and Da Viola's Alô Alô appearing on previous albums. In fact, it was Brazilian artists like Joao Gilberto who likely had the biggest influence on Parlato's singing style. 
Critics of Parlato's vocal approach often fail to appreciate that although her influence on an entire generation of jazz vocalists looms large, she too has clearly been influenced by jazz giants who've come before. Her ethereal, consonant-light approach to scatting, and dynamically controlled sound have been shaped by singers ranging from Gilberto to Blossom Dearie. I ask her whether she feels her musical choices have been misconstrued. "Being misunderstood, as an artist, is par for the course and criticism certainly gets easier to process as you get older. But I've learnt that it's more important for me to tread this path (that has already been tread by other artists I love!) because that's what's honest and genuine to me." Parlato can only be praised for her consistency. She has been a "less is more" singer since the beginning of her journey and authenticity, a word she uses frequently, is a cornerstone of her ethos. 
Parlato's introverted, considered musical approach led Camargo to invite her to sing with his project The Brazil You Never Heard. The experience shed new light on her connection to the genre and repertoire. "Playing with Marcel's large ensemble felt so good and I was reminded that this was music I've always loved that I never devoted my time to fully." Up until that point, she had also been focusing on motherhood and needed a really worthwhile spark to restart her creative focus once again. She "extracted" two members from Camargo's ensemble, cellist Artyom Manukyan and percussionist/drummer Léo Costa, and asked Camargo to be the musical director of the project. Flor was born. 
I listened to an advance copy of Flor in one sitting an hour before we were due to chat, so I arrived at the interview newly awash in the dreamlike, spongy patina of the album. It was as if I'd gone on a summer jaunt to Los Angeles, studded with its palm trees and laid-back boardwalk skaters to the soundtrack of The Beach Boys. Bassist Chris Morrissey's What Does A Lion Say? is akin to a Jon Brion ditty, with a playfulness and a nostalgic element to its waltz metre and fabulous interval jumps in the melody. Brion also happens to be based in LA which only supports the theory that a place can have such an audible presence in a recording. 
I tell Parlato this album sounds undeniably and wonderfully "LA" to me. Parlato responds, laughing. "Ah, well we are all Cali people, so we have that laid back vibe for sure!" I ponder out loud as to what the difference is between the atmosphere of this album compared to her recordings with New York-based musicians. "Maybe it's a post-production sensibility more than my past NYC-based albums?" she suggests. "There's not as much improvisation on this record so any stretching out is in the layering of sounds and textures." She credits the co-production work of Camargo and Costa to the record having such a strong sense of precision, care and thought in every layered element. While such parameters could put the kibosh on a jazz musician's ability to express themselves, I'd argue Parlato thrives in such conditions. Her voice has never sounded more at home and ethereal yet strong as it does on Flor. 
The inclusion of wordless works, Bach's Cello Suite No.1 [V. Menuett] and Pixinguinha's Rosa, is a delight. Two gems gently moulded to fit Parlato's style like a glove. They also showcase Manukyan's sensitive and delicate cello playing. Parlato is not trying to mimic an instrument on these tunes. If anything, she is striving to sound like herself, a vocalist. "This way of using my voice really goes back to the root of how I l started singing – in a choir using a straight tone – learnt by imitating Julie Andrews or Bobby McFerrin. When I hear these tracks, that voice and approach sounds most like me." 
Denigrators might write that Parlato has a "breathy tone". I have always maintained Parlato uses breath as an added colour while the essence of her sound is actually quite substantial and her vocal cords always make contact. The acapella beginning of the Menuett is a perfect example of hearing exactly how much breathiness Parlato is employing. She ebbs and flows between some breathiness, for that signature soft edge, and none at all, allowing her straight tone to sparkle with airless precision. 
Parlato is no stranger to eschewing lyrics in favour of mellow syllables as a way of improvising or navigating an introduction. Her oft-covered version of Herbie Hancock's Butterfly springs to mind. This song and the sheer number of times it's covered (including Parlato's exact arrangement, the hand percussion, and vocal approach) by other singers is but one example of the vast influence she has had on the contemporary jazz vocal genre. Though mimicry is an integral part of how jazz artists develop their sound, how does Parlato feel when she hears aspiring jazz vocalists clearly imitating her signature style? Ever generous, she replies, "I'm flattered, of course, but aside from the first few moments of identifying the influence, it's not really about me. I relate to those singers, as artists, because I did the same thing! You can hear me early on sounding a lot like Tierney Sutton." 
Parlato studied with Sutton when she was a high school student and I'd accredit Parlato's superb pitch and ability to sing a tone with a bell-like clarity to Sutton's early tutelage. Parlato goes on to iterate that if a singer chooses to mimic her in their quest to figure out their own sound, they are also discovering that they can be more understated as performers while still having a presence and connection to the music. She delivers an alternative model to the brassier example Betty Carter provides. What Gilberto provided for Parlato, she is offering to younger generations. 
Parlato has an impressive ability to be both a bandleader and a fully integrated ensemble member. The result is a tightly knit "family" of musicians and a heady brew of highly textured arrangements of repertoire spanning Brazilian tunes, R&B hits and original material. The song choices may be varied but the cohesiveness across track lists, and her discography in general, is superb. 
Parlato's personality seeps into all creative and business decisions to the point that she is unwittingly consistent and, to sound perfectly calculative, well-branded. When I point out, excitedly, that the seeds of this project were actually sewn eons before all of her other recordings, she expands on the decision to name the album Flor(Portuguese for "flower"). "I just love the metaphor and imagery of a flower – of returning and blossoming. It's nostalgic to consider discovering and appreciating something that has been there all along, but has taken its season to reappear. This realisation that it was never really gone, just in another form but always still in process. Flowers allow us to truly be in the moment, as their time in that perfect state is short-lived. They represent both our joy and sorrow, our acceptance and forgiveness. These themes are embedded in the album as well." 
Some critics told Parlato that the longer she stayed away from performing and recording in order to savour those early days of new motherhood, the harder it would be for her to return to the stage. "I took that to heart, but was content with my decision to focus on quality time and providing a settled home for my baby," she says. "I was teaching at Manhattan School of Music and still toured a bit, and would bring my son with me. I cherished that time when the days felt slow yet time moved so quickly." 
The irony is that Parlato will "rejoin" the jazz community in the company of musicians, the world over. 2021 will hopefully bring a return to touring, recording and performing with the retreat of the pandemic that brought a halt to the music industry for almost an entire year. "We're all in the same boat now," Parlato says with a smile. I'd argue that Parlato is in a boat, and a league, of her own. 
Flor is released on Edition Records on 5 March 2021. It features Marcel Camargo on guitar, Artyom Manukyan on cello, and Léo Costa on percussion and drums, with special guests Gerald Clayton, Mark Guiliana, and Airto Moreira.