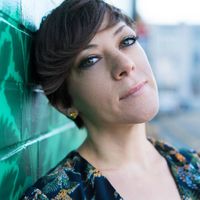 Flor has been touted as vocalist Gretchen Parlato's Brazilian-inspired project, and that's true enough. But don't expect a series of breezy bossa novas. The 45-year singer/composer has routinely strived for next-level creativity, and Flor ("flower" in Portuguese) is no exception. Bossas and sambas are present, yes, but so is a waltz-time ballad ("What Does a Lion Say?"), a hushed version of David Bowie's "No Plan" (from a posthumously released EP) and — most significantly — "Bach Cello Suite No. 1 (V. Menuett)." 
Let's start there. The multi-part song showcases Parlato's breathy, elegant voice in a wordless chamber excursion, where she shapes syllables to add character and remains in full command. The result is a rhapsodic lullaby. 
"Magnus," on the other hand, would make for a terrific child wake-up song. With a joyful South African-flavored rhythm and melody, Parlato intones, "One day, the most beautiful girl in the world / She made the most beautiful boy in the world." The song picks up momentum and evolves into a chorus chant. Another joyful noise comes courtesy of "Wonderful," which features a percolating rhythm and a sweet hook, and is capped off by an array of children of varying ages stating different iterations of "I'm wonderful." What could've been corny ends up being adorable. 
Parlato will never be mistaken for a belter, but she compensates for her limited range and power with a purity of tone, deep immersion into the lyrics and a knack for tasteful vocalese. A subdued backing trio of guitar, cello and drums/percussion (along with some carefully placed guest artists) allows the singer plenty of room for subtlety and to intimately connect with listeners. 
Parlato's remake of "Sweet Love," a major international hit for Anita Baker in 1986, glides along on a bossa-funk groove, over which she deconstructs the phrasing, skipping across bar lines. Gerald Clayton's Rhodes piano adds welcome texture. 
Of the more Brazil-centric material, Parlato transforms Roy Hargrove's "Roy Allan" into a classic uptempo samba. Kicking off with guest Airto Moreira's blend of hand and vocal percussion, the tune slides into a Parlato's silky wordless vocal chant, which builds into a lush chorus featuring guest singers. The lead-off track, "É Preciso Perdoar," a landmark song introduced in 1973 by João Gilberto, becomes a hushed parlor ballad. 
With Flor, Gretchen Parlato has energized the concept of a Brazilian/jazz hybrid by not sticking to the rules.
by Eric Snider, Apr 1, 2021