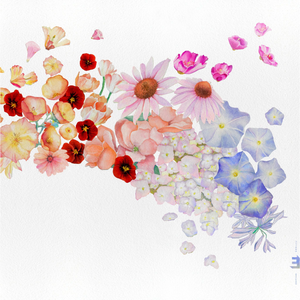 Always an artist to watch in the current jazz landscape, Gretchen Parlato has been dropping several singles recently in anticipation of her upcoming album Flor, which will see its public release on March 5th. While her first two singles "Wonderful" and "Sweet Love" were thoroughly enjoyable and tasteful as ever, the release of her third "No Plan" renewed my excitement in Gretchen and intrigued me to see what the upcoming album has in store. Unexpectedly, there were plenty of affinities with art rock displayed here, which made much more sense after discovering it was a cover of Bowie's posthumous tune of the same name. It certainly reminded me of the unique atmosphere on Blackstar (2016), which emerged from a blend of stark, sombre material and instrumentation that bears some ethereal eerieness to it.  As the final track of Flor, this reminded me of the similar unorthodox arrangement of SWV's 80s pop classic "Weak", to end her album In A Dream (2009). As in this case, the outlandish decision pays off – all the more impressive, as unlike "Weak", "No Plan" substitutes its overtly jazzy playfulness for a pensive atmosphere that's held together by a far subtler, more restrained musicality. 
The track itself is beautifully produced, with a sense of intimacy from the get-go established by the guitar's tasteful reverbating plucks from Camargo, blending with Gretchen's unmistakable mellow tone. The lovely unraveling chord progression embellishes upon Bowie's original, underscored by sonorous notes on the vibes ringing out. The mood manages to abstain from being too flat and stifling by injecting some emotive content with Manukyan's cello tremolos, nicely complemented by harmony that fluctuates seamlessly between major and minor modes. Thankfully, this isn't overdone and balances excellently with Gretchen's voice, unlike several tracks that might milk all the expressive potential of a tremolo. Throughout the track, there's some gorgeous idiosyncratic moments in the stringsthat bring intimacy to a highly produced track that could easily grow cold, from bowing slightly nearer the bridge to evoke a more metallic sound, to guitar squeaks on the fretboard. These little moments remind me of the covert, gentler side to chamber pop, and feel reminiscent of something like Julia Holter's Have You In My Wilderness (2015) – very surprising for a Gretchen release! They also show that the accompanying musicians haven't just been brought in for a quick session job (or if they have, they've listened intently to their place within the overall sound and done a brilliant job). 
The 6-minute track evolves very effectively, with the straightfoward drum pattern (Mark Guiliana) and cellist's move to pizzicato to imitate an upright bass entering at the perfect time. The cello particularly introduces a pretty irresistible chamber jazz feel for me, with a striking tone that recalls Eberhard Weber, which maybe explains why I'm reminded of ECM-style jazz here. This all helps contribute to the eclectic track that showcases some of Gretchen's wide-ranging influences. Still, she manages to maintain a distinct jazz direction, with some cool ninth-chord arpeggios in the guitar mid-way through atop some underlying synth pads, which helps pave the way for smatterings of some pretty spicy chords. Rhythmically, everything is upheld too, with her laid-back vocals, lulling guitar triplets, and a grounding drum pattern altogether producing a really satisfying groove. 
All of these tasteful techniques on "No Plan" accumulate and become more prominent while still retaining Gretchen's rich melancholic style, harking back to the morbid Bowie original. The cello's moody solo later on definitely suits this, which is beautifully contoured as it organically blossoms outwards. The solo has a deep yearning quality as its higher range is skilfully explored, covertly showing off Manukyan's virtuosity. As the strings died away, I was reminded of my favourite passages on art rock albums like Peter Gabriel's Up (2002), but featuring a well-ingrained jazz sensibility in the musicians' vernacular, making it all the more enjoyable. To wrap up, I cannot wait for Flor's release on the 5th of March, and will give an additional shout-out to its label Edition Records, whose ever-growing output never fails to impress me with their consistently musical releases. It feels very likely this album will be a highlight for jazz in 2021, and is definitely worth keeping an eye out for!