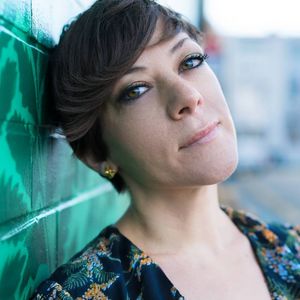 by Camila Sánchez Bolaño, Newsweek, April 9, 2018  
(google translation) 
Parlato returns to the stage after four years of absence with a new album: Flor, which she says is a very personal connection to music. In her voice, Gretchen Parlato expresses what she feels. And she doesn't do it only with the songs she writes or the jazz classics she decides to perform, but with the subtlety of that voice that sometimes sounds like a cello. Being the daughter of jazz bassist David Parlato, who collaborated with Frank Zappa, and visual artist Judy Frisk, Gretchen began to understand music from an early age, one could even say that jazz is her native language. 
It has been seven years since this beautiful woman visited Mexico, and now she returns with a new project: Flor, an album with which she returns to the stages that have missed her for more than four years. Thanks to Herbie Hancock and Wayne Shorter, Parlato was the first vocalist admitted to the Thelenious Monk Institute of Jazz, from which she graduated with honors. Now it has four albums and more than 80 collaborations with artists such as Esperanza Spalding and Terence Blanchard.
"This last project, Flor, what is it about?"
—It is a new beginning, a return to music, because I took time to raise my son. He is now four years old and it is already easier for me to find a balance. Flor is my very personal connection with music and, now at the Lunario, it will be the first time we play this together, so for the band on stage it will also be something very new.
"What do you value most about your instrument?"
"The honesty in my voice." It always reflects what I feel, it may be that I am happy with my voice and connected, but it may also reflect that I feel sad or sick. That honesty that my voice reflects is something invaluable. I can not hide behind her and it is a gift to share it. I find it beautiful to have my instrument with me and it is something I can always offer.
—When was the last time you composed a song?
-I have just done it. I guess in this last month I have been working on new material. Composing is something I enjoy so much, it's fun. We already have many songs to present at the Lunario, new songs.
—What is your ideal mood to compose?
"I've realized that the easiest way I compose is when I'm sad." Now, for Flor, it was very difficult for me to write a song about my son, about my marriage, about this happy life that I have now. Instead, when I was single and my heart was breaking, I wrote a lot and with more ease and ease. I think when you're sad you're very open and that makes you more creative. Actually, I always give that advice when someone is going through a bad time: to touch their creative side. Usually amazing things come out.
—The last time you were in Mexico was seven years ago…
"It's been too long." We are very happy to return to Mexico and we hope that the people who will see us are ready to listen to new music, we are really very excited. Gretchen Parlato will perform at the Lunario of the National Auditorium on April 16. She will be accompanied by Brazilian guitarist Marcel Camargo, drummer Leonardo Costa and Armenian cellist Manukyan Artyom.