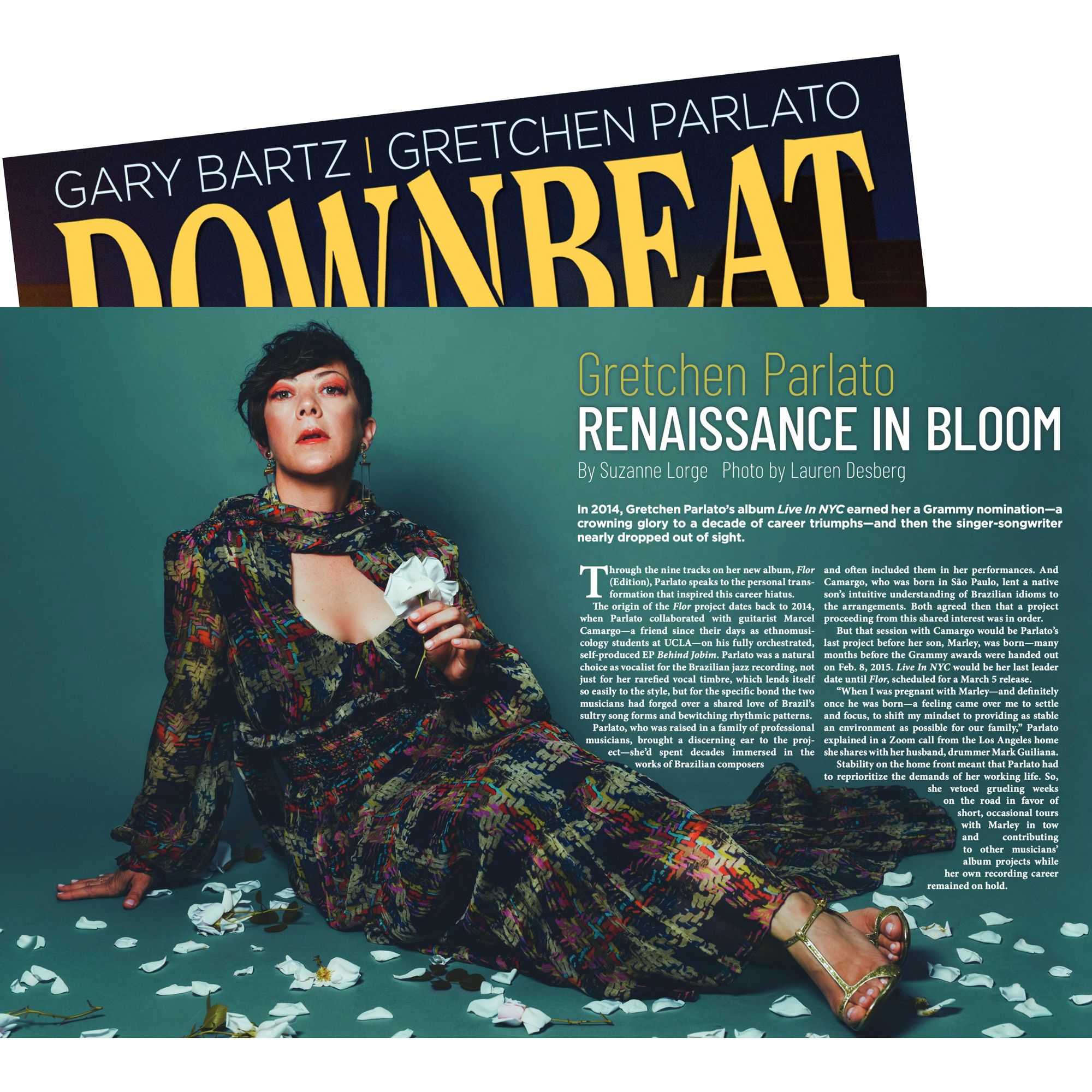 By Suzanne Lorge   I  Feb. 12, 2021 
In 2014, Gretchen Parlato's album Live In NYC earned her a Grammy nomination—a crowning glory to a decade of career triumphs—and then the singer-songwriter nearly dropped out of sight. 
Through the nine tracks on her new album, Flor (Edition), Parlato speaks to the personal transformation that inspired this career hiatus. 
The origin of the Flor project dates back to 2014, when Parlato collaborated with guitarist Marcel Camargo—a friend since their days as ethnomusicology students at UCLA—on his fully orchestrated, self-produced EP Behind Jobim. Parlato was a natural choice as vocalist for the Brazilian jazz recording, not just for her rarefied vocal timbre, which lends itself so easily to the style, but for the specific bond the two musicians had forged over a shared love of Brazil's sultry song forms and bewitching rhythmic patterns. 
Parlato, who was raised in a family of professional musicians, brought a discerning ear to the project—she'd spent decades immersed in the works of Brazilian composers and often included them in her performances. And Camargo, who was born in São Paulo, lent a native son's intuitive understanding of Brazilian idioms to the arrangements. Both agreed then that a project proceeding from this shared interest was in order. 
But that session with Camargo would be Parlato's last project before her son, Marley, was born—many months before the Grammy awards were handed out on Feb. 8, 2015. Live In NYC would be her last leader date until Flor, scheduled for a March 5 release. 
"When I was pregnant with Marley—and definitely once he was born—a feeling came over me to settle and focus, to shift my mindset to providing as stable an environment as possible for our family," Parlato explained in a Zoom call from the Los Angeles home she shares with her husband, drummer Mark Guiliana. 
Stability on the home front meant that Parlato had to reprioritize the demands of her working life. So, she vetoed grueling weeks on the road in favor of short, occasional tours with Marley in tow and contributing to other musicians' album projects while her own recording career remained on hold. 
To understand the magnitude of this departure from the spotlight, consider Parlato's career trajectory pre-motherhood: She performed with jazz greats Herbie Hancock, Wayne Shorter and Terence Blanchard while still a student at UCLA. She won the 2004 Thelonious Monk Institute of Jazz International Vocals Competition and released her self-titled album the following year. Her subsequent albums—In A Dream (2009) and The Lost And Found (2011)—generated glowing reviews, and she topped the category Rising Star–Female Vocalist in the 2011 DownBeat Critics Poll. 
Not surprisingly, those early years of Marley's life were something of "a blur," Parlato recalled. But as the pressures of new parenthood eased over time, she began to muse about the interruption to her artistic life. These musings in turn prompted a wealth of new material that tapped into Parlato's deep feelings about becoming a mother—melodies with lullaby strains, lyrics about change and acceptance, choruses ringing with joy at newfound wonders. 
"Once Marley turned 3 or 4, I could finally pen the lyrics about this precious time," Parlato explained. "I hadn't given myself time to write about it, because it felt very private. Sometimes, it's easier to write about heartbreak, though that's private, too. But this was good and joyous, so I felt protective about it. It took some time for me to put it into words." 
While the compositions took shape, Parlato started to pull together that Brazilian-focused group with Camargo. Such an ensemble would afford a natural return both to performing and to the gently swaying songs that had proved foundational to her development as a vocalist. 
For the resultant album, which also features drummer-percussionist Léo Costa and cellist Artyom Manukyan, Parlato chose the name Flor, the Portuguese word for "flower." As both a descriptor for the group's delicately crafted sound and a metaphor for Parlato's artistic process, this name holds great meaning for the vocalist. 
"The imagery of a flower is so profound to me," Parlato said. "I was thinking of a plant that is dormant in the winter, where there's nothing happening. It seems to be gone. That's how it felt when I took time off for motherhood. I was thinking, 'Where did she go? Where's the creativity? The album? The touring?' I knew it was still there, that it [would] come back again." 
Parlato's artistic renaissance began with a few gigs to play the new material "here and there," she said, in Australia, New Zealand, Mexico and New York. To prepare for them, she turned to Camargo—who'd signed on as musical director—to arrange a mixed repertoire that ventured beyond fresh originals and treasured Brazilian standards into jazz settings of European classical music and surprising refurbishments of American pop songs. These tunes, personalized to Parlato's minimalist aesthetic, would constitute the group's program for both its tours and inaugural release. 
"There's always an essence in the original [tune] that should be protected. I try to find that first—it's the thing that draws me to the material," Parlato said about her approach to new repertoire. "But as much as I love the original piece, it wouldn't make sense if I did an exact imitation. So, I use a method where I first deconstruct a song, then reconstruct it. 
"The deconstruction comes with finding the purest melody and harmony and structure [of a piece]. I get to that bare-bones state, and then everything that I use in reconstructing it comes from my vision, my story. I try to find that beautiful balance between honoring what the song is and doing something different, so that people can hear it in a new way. " 
In listening to "É Preciso Perdoar," Flor's first track, one can hear the bits that constitute its essence—the lilting melody, the wistful lyrics, the mesmeric polyrhythm. As Parlato weaves her own English-language text in with the original Portuguese, she amplifies the melancholy threaded throughout the song made famous by João Gilberto in 1973. 
This aesthetic choice brings to the fore a truth about Brazilian music: Much of its beauty derives from the implacable longing it conveys. But mothers' laments—like Parlato's here—are rarely, if ever, expressed in jazz, Brazilian or otherwise. 
She continues to distinguish herself as a lyricist on "What Does A Lion Say," a silvery waltz by bassist Chris Morrissey, offset with a dark ostinato, sweeping arco cello lines and acoustic hand percussion. On this gorgeous tune, Parlato ponders the ephemera of parenthood—this time in wonder at her child's rapid metamorphosis. 
"It hit me the other day, how the image of a flower is the perfect symbol for mindfulness, for being in the moment," she said, discussing the album's recurring theme. "You have to be appreciative of all the stages of its growth. When it finally blooms, it's a perfect thing that only lasts for a short time, and then it goes into another form. If I try to hold on, I feel the suffering [that comes from] wanting things to stay the same." 
Parlato also contributed compositions to the project—two songs that exult with youthful elation, even as they impart sophisticated jazz concepts. She wrote the openhearted "Magnus," with its tricky 13/8 bass line, from an impromptu lullaby sung by a friend's preschooler to his soon-to-be-born brother. Parlato brought the real-life Magnus, now a teenager, and his younger siblings—Thaddeus and Ashley—into the studio to record the tune's twining, layered chorus. 
Parlato later explores the concept of a child's inner world on her tune "Wonderful," released as the album's first single in late 2020. Clean and direct, the track's repeated hook, backed by the crisp rhythm section, becomes a mantra of self-affirmation as it passes from Parlato to a children's chorus. The children—all related to the band members in some way—feel no hesitation in asserting their inherent value through extemporaneous spoken word. (Guests on the track include Guiliana and pianist Gerald Clayton.) 
"'Wonderful' is essentially about what [Marley] represents as a child. When we're young, we feel invincible. We know how amazing we are and we say it all the time," Parlato said. "But there's something that happens as we age, where we stop saying it, and maybe stop feeling it. This song is a reminder for adults, too, to know your value and your worth." 
In contrast with the original compositions and their purposeful lyrics, two selections on the album show off Parlato's virtuosity with wordless, straight-toned vocalizing: "Rosa," by Brazilian choro composer Pixinguinha, and Bach's "Cello Suite No. 1, BWV 1007: Minuet I/II." Parlato's voice lies at its most exposed on these tracks, as she doubles Manukyan's pizzicato cello on the Pixinguinha tune and sings a cappella for almost two minutes on the Bach piece. These classical performances—voice intertwined with strings in shifting combinations—are exquisite in their simplicity. 
Credit for these conceptual pieces goes to Camargo, who not only suggested them to Parlato, but also proposed using cello instead of bass throughout the album. 
"Traditionally, there is no bass in Brazilian music. People play a seven-string guitar, which has one low string," Camargo noted. "Many of the arrangements I was bringing [to the project] were guitar-[centered] ideas already, so there was no need for a bass, really. Instead, I thought we could use the chair for someone like Artyom, who can play the cello as a cello, but also the cello as a bass. 
"This is nice with Gretchen's singing, too, because her voice is delicate, intimate. Sometimes you add a bass, and the music becomes very big. This [instrumentation] helps her voice to shine." 
Parlato again sings without lyrics on "Roy Allan"—this time alongside legendary Brazilian percussionist Airto Moreira, famous for his work with Chick Corea, Miles Davis and Antônio Carlos Jobim. The track—a tribute to trumpeter Roy Hargrove (1969–2018)—opens with Moreira alone, extemporizing with vocal percussion, shakers, whistles, bells and drums to establish a riveting samba for Parlato's vocalese. Through overdubs, this jaunty melody expands into a full choral passage at the tune's apogee, only to diminish gradually into Moreira's striated improvisation. It's a breathless ride. 
Moreira, who lives in Brazil, has never met Parlato. He recorded his contribution to "Roy Allan" in his own studio and forwarded the track to fellow Brazilian Costa, with whom he has collaborated for many years. Even without meeting her, though, Moreira knows well who Parlato is. 
"The first time I heard of Gretchen was through Flora," Moreira wrote in an email, referring to his wife, Brazilian jazz singer Flora Purim. "She was on the jury [at the 2004 Monk competition] and couldn't stop talking about this unpretentious young girl who was improvising without hesitation. Sitting next to Flora was Quincy Jones, and he commented how [Gretchen] just came out of nowhere. The rest is history. Gretchen is now one of the best jazz singers around." 
Though noted for her exceptional soloing skill, Parlato doesn't use Flor as a vehicle for improvising. She stretches the bounds in other ways, though—through the odd meter on a version of Anita Baker's 1986 r&b hit "Sweet Love," for instance. Such innovation creates a slightly off-kilter feel that leaves the listener unsure of Parlato's next step, the way an improvisation would; Clayton's sleek comping on Fender Rhodes only adds to the tune's spontaneous vibe. 
"The bulk of the ['Sweet Love'] arrangement came together when we were in Melbourne and at rehearsal," Camargo said. "This is something interesting about Gretchen: Whenever she feels that things are starting to settle, maybe a little too much, she'll throw in something to push us in a different direction. She pushed to take that tune somewhere else. I like that about her, because a lot of artists want to stick with what they know. But she wants to find something new." 
For the album's closing tune, Parlato selected David Bowie's "No Plan," the title cut from the superstar's posthumous 2017 EP. Guiliana—who contributed to the EP, as well as Bowie's final album, Blackstar—sits in on the intense track, adding to its relentless momentum. Much of the thrill here comes from the effects added in post-production—the echoes, oscillations and ethereal extrapolations that pay homage to Bowie's singular eccentricity. 
On this tune, Bowie's lyrics about living with an uncertain future seem to resonate with Parlato; of all the tracks on the album, she sounds the most vulnerable on this one. It's easy to imagine, in listening to the lyrics, that where Bowie was contemplating death, Parlato was contemplating birth. Or rebirth. Or simply change, in its many guises. 
Parlato and her band recorded the album in Brooklyn in early 2019, two days after a gig at the now-defunct Jazz Standard. That summer, Parlato and her family moved from New York, where she had spent much of her career, to Los Angeles, where she had grown up. Her plan was to continue enhancing the album in post-production, and when it was complete, to schedule a tour around its release. The pandemic changed all of that, of course. 
Fortuitously, independent jazz label Edition Records—home for recording artists Kurt Elling, Chris Potter and Lionel Loueke—was interested in the album, pandemic or no. Parlato liked the deal on offer, which included her first vinyl release, and signed on. 
"It's clear that Edition is the kind of label that supports its artists completely," she said. "It's a saving grace to be on board." 
These days, however, Parlato is content to stay home, sharing parental duties with Guiliana, working on her music and teaching remotely. She explained that she wonders whether it would be possible just to make music at home and stop performing onstage altogether. But then she remembers the connection with the audience, how live music feels. So, she remains open to an uncertain future and waits for coming possibilities to unfold. Like a flower. DB