by Abe Beeson, KNKX • Aug 18, 2017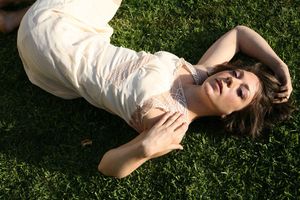 Gretchen Parlato will knock you off your feet. 
After more than a dozen years in the heart of the jazz world in New York City, Gretchen Parlato has become one of the most mesmerizing voices in modern jazz. And in a time when modern jazz singers seem to have at least one foot in soul and r&b, Parlato is blazing her own trail. 
Growing up the daughter of bassist Dave Parlato, who played with Frank Zappa as well as jazz greats Al Jarreau, Buddy Rich and Gabor Szabo to name a few, Gretchen Parlato was raised on cutting edge improvisation and developed her fluency in the language of jazz at a young age. In 2001, after earning a bachelor's in Ethnomusicology from UCLA, she was the first vocalist accepted into the Thelonious Monk Institute by a panel of judges including Herbie Hancock and Wayne Shorter. She would go on to win the Monk Institute competition for jazz vocals three years later. 
WGBO's Josh Jackson, host of NPR's Live at the Village Vanguard, singled her out in 2009 as one of the most important names in modern jazz. Early albums showed off Parlato's impeccable sense of time and phrasing, and a fearlessness to stretch her voice to the limit. She often uses her voice as an instrumentalist might, sometimes wordlessly conversing with longtime musical collaborators like pianist Taylor Eigsti and guitarist Lionel Loueke. 
Her live performances have been her vehicle to acclaim. Those moments of musical conversation without a net prove her improvisational skills with each performance. Her Live in NYCalbum brought Parlato her first Grammy nomination in 2015.  Reflecting on the experience, she says, "I´ve always wanted to capture and share the magical energy, connection, and interaction of a live performance. Singing with these musicians has uplifted and inspired me, each of them supporting and challenging me as a singer." 
More a teammate than a spotlight seeker, she's appeared as a guest vocalist on nearly 100 recordings as well as working in an ensemble with the vocal trio project Tillery, including likeminded singers Becca Stevens and Rebecca Martin. 
On this week's episode of The New Cool, we'll hear Gretchen's latest recording, working with young drummer Nate Smith on "Pages" from his 2017 release Kinfolk: Postcards from Everywhere. Her light, summery delivery floats beside beautiful acoustic piano and saxophone, buoyed by Smith's insistent rhythm. Smith worried that the song may be "too pretty, not cerebral enough", but Parlato shows with each performance that the two are not mutually exclusive. 
Pretty and smart, with courage and a smile, that sums up Gretchen Parlato's jazz style pretty well.
PHOTO by JEANEEN LUND, USED WITH PERMISSION OF THE ARTIST.