NPR/KFYI, SEP 13, 2019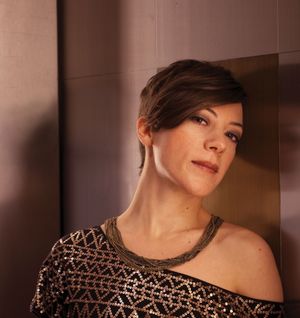 The Grammy-nominated jazz vocalist Gretchen Parlato is no stranger to NPR audiences, she clenched best album in the NPR Music Jazz Critics Poll with her 2011 release "The Lost and Found." 
Parlato has shared the stage with jazz royalty including Wayne Shorter and Herbie Hancock — and Parlato will bring her quartet to Indy Jazz Fest on Saturday, Sept. 14 at The Cabaret. Cultural Manifesto host Kyle Long caught up with Parlato in advance of the date. 
Kyle Long: You come from a fascinating musical tree. Your grandfather played with easy listening icon Lawrence Welk, and your father played with psychedelic rock legend Frank Zappa. How did those influences shape your work? 
Gretchen Parlato: It's a huge influence to have that kind of artistry in my blood. It was normal for me growing up to know that art should exist in our lives everyday. 
Long: Brazilian bossa nova has a huge presence in your music. Tell me about the role of Brazilian music in your work. 
Parlato: Luckily, when I attended UCLA there were a couple classes that specialized in Brazilian music. So I had an opportunity to get into it there. But it started a bit earlier in middle school when I heard João Gilberto as a teenager. I was flipping through my mom's record collection and the cover of Stan Getz and João Gilberto's 1963 "Getz/Gilbero" album struck me. The cover had an image of an abstract painting. I took out the album and put it on and I heard João Gilberto's voice, and the texture and simplicity of the music struck me — even at 13 years old. That was definitely a turning point. Gilberto's voice made me realize I could sing in a more intimate way and it could still be powerful. 
Long: You have an impressive discography of music. Though you've released only four solo LPs, you've appeared on over 80 albums as a vocalist. You've made significant contributions to important albums from artists including Esperanza Spalding, Terence Blanchard, Joel Ross, Terri Lyne Carrington, and so many others. How has that experience performing as a guest vocalist shaped your solo work? 
Parlato: That number always takes me aback. I'm 43-years old now, so for 20-plus years I've been asked to be a guest on other people's projects. It's been awesome for me because it's challenged me to use my voice in a way that I might not have known I could. I learned to blend my voice into the fabric of a composition — not just be the vocalist that sings the melody and then steps aside. I've learned to sing in all kinds of genres, with all kinds of instrumentation around me. 
Hopefully you could always tell it was me, because I don't feel like I had to change what I do. It's been eye-opening for me as a musician to know that I can always be myself and sing in a really distinct way, but be placed in different settings that stretch me in different ways. 
Long: One of your signature songs is a unique interpretation of SWV's 1992 R&B hit "Weak." You recorded "Weak" on both your "In A Dream" album, and also "Live in NYC." That song doesn't immediately strike me as ripe for a jazz interpretation. How did "Weak" enter your repertoire? 
Parlato: That song is a classic. It was out when I was in 10th grade. The music you heard when you were in high school is always going to be nostalgic, and a big deal —  but I think it's a really great song in itself. 
Back in the day when I was in New York one of the first people I met was Robert Glasper. We would get together and listen to music and collaborate on stuff. That was one of the pieces I told Robert I wanted to do. He kind of laughed, like, "Really? You want to do that song?" He came up with an arrangement, so it kind of grew from there. Now it's taken on a life of its own.
by Kyle Long