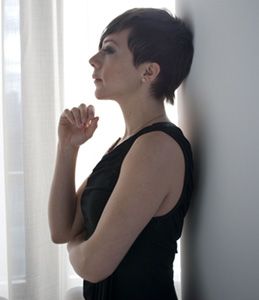 Elda Garcia
It could well fit in a New York jazz club of the 40s, but you can also imagine it in the moonlight while watching the sea of ​​Rio de Janeiro. Such are the possibilities and nuances of Gretchen Parlato's voice. 
Parlato will perform for the first time in Mexico this Monday of the National Auditorium, with Flor, a concert where each petal will be impregnated with elegance, sweetness and strength. 
The talent comes from inheritance, because she is the daughter of bassist David Parlato, who in the 70s collaborated with artists as opposed and bright as Frank Zappa, Barbra Streisand, Al Jarreau and Henry Mancini and visual artist Judy Frisk.
"I was born in an artistic family, so they were my first teachers, exposing me to all kinds of art and teaching me that this is a necessary and vital aspect of our lives. Fortunately I could learn from them that being an artist is a valid profession that brings much happiness and success, "he acknowledges. 
But her happiness and success also come from her own merit; In 2001 she graduated in ethnomusicology at the University of California, Los Angeles and after a series of arduous examinations, she became the first singer to be admitted to the Thelonius Monk Institute of Jazz. 
The jury that defined his admission are heavyweight names in the jazz world: Herbie Hancock, the institute's artistic director, trumpeter Terence Blanchard and Wayne Shorter, a 'living legend' according to his words. "I am very grateful to have studied with him, to have acted with him and even to have sung with him!", confesses Gretchen. 
While there is room for jazz standards in her repertoire, Gretchen prefers to be original and reinterprets other people's works with slow and deep combustion and thus reveals her true art. 
"My goal," she says, "is to be honest, genuine and pure in my art, allowing my true nature to be reflected, and I hope it reflects who and where I am in my life." 
Although the standards have a place in her repertoire, her voice can also be modulated and become whispering but also passionate, and thus give new life to compositions by Antonio Carlos Jobim. 
That leads her to ask about the possibilities of jazz, how she has merged with other genres, such as rock, Celtic rhythms or Bossa Nova and create that hybrid called world music. 
"If you mean the music that I believe, I come from a jazz story as well as my studies; I also love Brazilian music, Bossa Nova specifically, and I incorporate other genres such as pop, soul, R&B in what I do; you can also listen African influences in my work. " 
When asked if the jazz scene has been segmented in recent years, she points out that it is alive, with more possibilities than ever and in which there is room for everyone. "Whether in traditional jazz or in a more innovative and disruptive one that breaks the boundaries, there is an audience for everything."